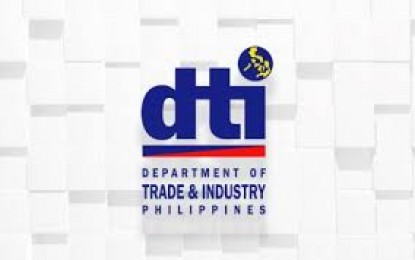 CITY OF SAN FERNANDO, Pampanga– Fifteen micro, small and medium enterprises (MSMEs) in Central Luzon will have an opportunity to showcase their products in the International Food Exhibition (IFEX) at the World Trade Center in Pasay City on May 26-28, this year.
The 15 MSMEs will join with more than 500 exhibitors in the three-day event organized by the Center for International Trade Expositions and Missions (CITEM), the Department of Trade and Industry's (DTI) export promotions arm.
Of the total participating enterprises in the region, four are from Bulacan province, two each from Bataan, Nueva Ecija, Pampanga, Tarlac and Zambales and one from Aurora.
The participating MSMEs from the region are GMA Farms, Bagakeño Cashew Nuts and Gen. Merchandise, Amanda's Marine Products, Sta. Maria Dairy, Seven C Corporation, Angel-Spice Mushroom Station, RamC Food Industry, Forturo Foods Manufacturing, RedJ Mushroom Farm, Lola Puring's Food Products, Apung Ota Brownies and Delicacies, RP Corpus Sales Enterprise, Pindangan MPC, Green Thumb Agri Products and Sonia's Sweets.
"Our MSMEs are glad that IFEX is back in person after having digital versions during the pandemic. They will surely exhibit the best quality products of Central Luzon," said DTI-3 officer-in-charge Regional Director Brigida Pili in a statement on Thursday.
Pili said the participating MSMEs will exhibit the best of the region's food products, including cashew nuts, coco jams, peanut butter, bagoong and dried fish, yogurt and other dairy products, fruit juices, chicharon, mushroom chips, pastries, candies, bottled sweets, processed mangoes and others.
Aside from the exhibit area, she said six more MSMEs from Pampanga will set their booths in the seller's area. These are Aiza's Sweets, Sasmuan Delicacies, Lola Puring's Food Products, RPO Fine Foods, John and Mico Food Products, and Lailen's Pastries.
The DTI Regional Office 3 have been assisting the MSMEs through the conduct of training as well as providing livelihood kits and facilities that could help improve and expand their businesses.
Likewise, the DTI-3 has been conducting and participating in various trade fairs in an effort to help MSMEs generate sales and provide income and employment.
"In trade fairs, like IFEX, our MSMEs will be given an opportunity to launch their products, discover new markets, and transact with big buyers," Pili added. (PNA)