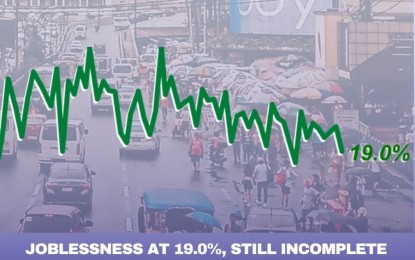 MANILA – A nationwide survey conducted by the Social Weather Stations (SWS) found that the number of jobless adult Filipinos declined to 8.7 million as of March this year from 9.6 million in end-December 2022.
According to the First Quarter 2023 SWS survey, conducted from March 26 to 29, 2023, the latest joblessness rate stood at 19 percent.
This is 2.3 points below the 21.3 percent recorded in December last year and 7 points below the 26 percent recorded in April last year.
However, the latest figure is 1.5 points above the 17.5 percent rate recorded in end-December 2019 or before the coronavirus disease (Covid-19) pandemic, with SWS saying the recovery to pre-pandemic levels is "still incomplete."
SWS said the country's adult joblessness is generally on a downward trend from a catastrophic level of 45.5 percent in July 2020, and even declined to as low as 18.6 percent in October 2022.
Adult joblessness, according to the pollster, refers to those seeking jobs for the first time, those who voluntarily left their old jobs, and those who lost their jobs due to economic circumstances beyond their control.
The March 2023 survey also found that the Labor Force Participation Rate, or the portion of adults within the labor force who have jobs, is at 62.4 percent of the labor force, with around 45.9 million workers.
Joblessness in the first quarter this year decreased from 24.8 percent to 17.5 percent in Metro Manila; from 23.1 percent to 21.7 percent in Balance Luzon, and from 18.6 percent to 13.5 percent in Visayas.
It, however, hardly moved from 18.1 percent to 19 percent in Mindanao, survey results showed.
Hunger among the jobless
The latest survey also found out that 9.8 percent of Filipino families, or an estimated 2.7 million, experienced involuntary hunger, or being hungry and not having anything to eat, at least once in the past three months.
Involuntary hunger is at 13.7 percent (consisting of 13.0 percent moderate hunger and 0.6 percent severe hunger) among families of the jobless, compared to the 11.3 percent (consisting of 9.5 percent moderate hunger and 1.7 percent severe hunger) among families of respondents with jobs or livelihood.
Joblessness is also higher among women at 30.2 percent, compared to men at 11.6 percent.
When it comes to age, the youngest age group, 18 to 24 years old, had the highest joblessness at 36 percent, and was followed by those belonging to the 25-34 years old group, 23.8 percent; 45 years old and above, 15.9 percent; and 35-44 years old, 11.7 percent.
Adult joblessness among the junior high school graduates is reported to be highest at 23.3 percent.
The First Quarter 2023 Social Weather Survey was conducted using face-to-face interviews of 1,200 adults (18 years old and above) nationwide.
The sampling error margins are ±2.8 percent for national percentages, and ±5.7 percent each for Metro Manila, Balance Luzon, Visayas, and Mindanao. (PNA)