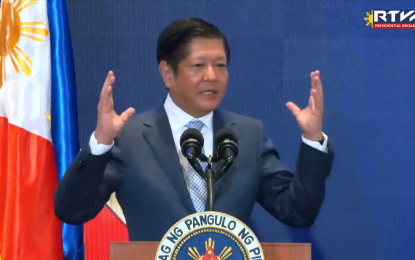 MANILA – President Ferdinand R. Marcos on Thursday called for the resumption of talks between the Philippines and the European Union (EU) for a bilateral free trade agreement (FTA).
During a gala dinner hosted by the EU - Association of Southeast Asian Nations (ASEAN) Business Council (EU-ABC) and the European Chamber of Commerce of the Philippines (ECCP), Marcos said it is now the right time to resume the negotiations for an FTA which will facilitate a freer flow of goods between the Philippines and the EU.
Marcos said pursuing a free trade pact would be a "win-win strategy" for both the Philippines and the EU.
"With this conducive business atmosphere that we are fostering, I believe that we can all agree that the timing and conditions are now quite ripe for us to solidify the long-standing and historically beneficial trade relations through a bilateral Philippine-EU free trade agreement," he said in a speech delivered at the Dusit Thani Hotel in Makati City.
"It promises to achieve mutually beneficial economic goals while maintaining consistency with the EU's core ideals of sustainable development and environment protection, as well as with EU's Indo-Pacific Strategy," he added.
The Philippines and the EU launched exploratory talks on bilateral FTA in 2013.
There were two negotiations held in Brussels in 2016 and in Cebu in 2017, but talks have been on hiatus for six years now.
Marcos urged the EU-ABC and the ECCP to "actively" advocate for the resumption of talks for a free trade deal, stressing that their "credible voices" can help facilitate the "favorable conclusion" of negotiations.
"And if and when that happens, it could very well be the capstone of all efforts to strengthen PH-EU relations over the course of the next decades," he said.
'Healthy signs' of economic recovery
Marcos stressed that the Philippines is showing "healthy signs of recovery" from the economic downturn brought about by the pandemic.
He noted that the Philippines registered a 7.6-percent gross domestic product (GDP) growth rate in 2022, an indication that there is a "very strong economic activity in the country."
"All these bode well for a stronger and more productive relationship between the Philippines and the EU," Marcos said, citing his administration's transformative plans for the country, which include the creation of an enabling environment that will facilitate the attainment of tangible socio-economic goals.
The enabling environment, Marcos said, covers vital areas and concerns, including infrastructure, strategic investments, peace, security and justice, good governance, regulatory efficiency, financial stability and climate resilience.
"Overall, these enhanced the features of the Philippines as an attractive trade and investment destination," he said.
To date, the Philippines is benefitting from the EU Generalized Scheme of Preferences Plus (GSP+) as more than 6,000 goods were slapped with zero tariff upon entering the EU market.
Marcos expressed optimism that the GSP+ will lead to the growth of exportation in the EU, as well as to the development of the Philippines' micro, small and medium enterprises and manufacturing sectors. (PNA)