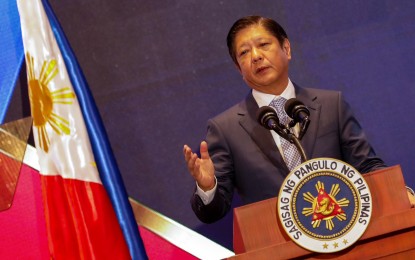 MANILA – The national government is in constant communication with the local government units (LGUs) to ensure proper disaster response, as Super Typhoon Mawar threatens to batter the country, President Ferdinand R. Marcos Jr. said Friday.
"We are in constant contact with the local governments para makita natin what is the situation in their place, pagka nakadaan na 'yung bagyo, pagka natapos na 'yung mga ulan, mabawasan na 'yung ulan, titignan natin pa (so we could see the situation during and after the onslaught of the typhoon)," Marcos said in a media interview at the Philippine Navy (PN) headquarters along Roxas Boulevard in Manila.
"We are in constant contact with them also to find out kung ano 'yung kailangan nila, ano 'yung nangyari sa lugar nila (what they need and what happened to their areas). With that way, we will be able to respond properly."
The President said he would let the LGUs exercise their jurisdiction in implementing their respective disaster preparedness plans.
He, nevertheless, assured that concerned government agencies would assist the local governments whose localities may be hit by Mawar, which will be given the local name Betty once it enters the Philippine Area of Responsibility.
"We have already warned the LGUs to prepare in case of heavy rains and flooding. Kaya ang aming ginagawa ay (What we are doing is) we leave it to the LGUs right now to make the call kung ano 'yung gagawin nila (on what they should do). Pero nandito lang ang national government to assist (However, the national government is here to assist)," Marcos said.
Available funds
In a statement, Department of Budget and Management (DBM) Secretary Amenah Pangandaman said the government has available funds to help Filipinos who may be affected by Mawar.
"Our government is prepared. We are ready to support all operations for disaster rescue and relief with the necessary budget. Identified front-line government agencies may mobilize their Quick Response Fund (QRF) allocated in their respective budgets," Pangandaman said.
The QRF is a built-in budgetary allocation that serves as a pre-disaster or standby fund for agencies to ensure immediate assistance to areas stricken by catastrophes and crises.
The DBM's latest data show that the government still has PHP18.3 billion in calamity fund, including the PHP1.5 billion carryover from last year's budget, which can be used for various disaster relief operations until the end of 2023.
A PHP3.9-billion calamity fund has been released for this year alone, the department said.
It noted that after the typhoon, government agencies may tap the available National Disaster Risk Reduction and Management Fund (NDRRMF) under the 2023 General Appropriations Act upon completion of damage assessment and recommendation by the National Disaster Risk Reduction and Management Council and following the approval of the President.
The NDRRMF may be used for aid, relief, and rehabilitation services to communities or areas, as well as for repair, rehabilitation, and reconstruction works in connection with the occurrence of natural or human-induced calamities in the current or two preceding years.
The NDRRMF also serves as an additional funding source for the QRF agencies when the balance has reached 50 percent, subject to the approval of the DBM.
Meanwhile, in a press statement issued Thursday night, the Department of Transportation said Secretary Jaime Bautista instructed its attached agencies to brace for the onslaught of Mawar by ensuring sufficient personnel and resources are in place to respond to any disruptions in air, sea, and land travel due to the typhoon.
Large and small, private and public seaports and airports in Northern Luzon will be on high alert starting when Mawar nears Luzon.
Airport, seaport, and Coast Guard officials were told to activate preemptive measures and focus on the commuters and passengers whose travels may be affected by the weather disturbance.
Emergency full council meeting
National Disaster Risk Reduction and Management Council (NDRRMC) spokesperson Arsenio Andolong said the council has conducted an emergency full council meeting at the Office of Civil Defense (OCD) in Camp Aguinaldo, Quezon City on Thursday to discuss the different areas of concern.
"Department of National Defense (DND) officer-in-charge Senior Undersecretary Carlito Galvez Jr., who is also the chairperson of the NDRRMC, said that President Ferdinand R. Marcos Jr. reiterated his concern to mitigate any danger posed by Mawar along with the intensified monsoon rains to the communities that will most likely be affected all over the country," Andolong said in a statement Friday.
The different agencies and regional offices presented their preparedness assessments as well as their recommendations for future disaster relief operations.
Department of Science and Technology (DOST) Secretary Renato Solidum told the council that the Philippine Atmospheric, Geophysical and Astronomical Services Administration (PAGASA) "will be providing you with the information and the data as soon as we can."
Meanwhile, the Department of Environment and Natural Resources (DENR) disseminated information to the LGUs, warning the public to avoid areas affected by repeated flooding.
The advisories called for everyone to be vigilant in the monitoring of areas showing signs of landslides.
DENR also cautioned the LGUs to be aware of the geo-hazards in their respective areas and know the appropriate disaster mitigation measures to apply.
The Department of the Interior and Local Government (DILG) likewise assured the council that they are closely monitoring weather bulletins and advisories and have been continuously informing all communities.
In an advisory, the DILG said LGUs, especially in areas with recent experience of extended or prolonged rain occurrences and/or landslides or floods, must continue to monitor all PAGASA weather advisories and typhoon bulletins and utilize hazard assessment service HazardHunterPH.
Local DRRMCs and LGUs were also directed to convene and conduct pre-disaster risk assessments for floods, flash floods, rain-induced landslides, debris flow, and strong winds; continuously inform and advise communities of situation updates and preparations; prune trees and vegetation and clear waterways such as canals and drainages; and conduct preemptive evacuation and avoid areas affected by repeated flooding and landslides.
Agencies are also maximizing the use of social media in terms of information dissemination.
The Department of Social Welfare and Development (DSWD), on the other hand, reported that they have already prepositioned food packs and non-food items for the families that will most likely be affected.
"Relief operations require data, and we thank all the agencies, especially the DND and the DOST for giving us these to help us deliver accurate services to our stakeholders," DSWD Secretary Rexlon T. Gachalian said.
Galvez emphasized the need for coordination and facilitation especially in calamities and disasters.
He likewise reiterated that all agencies must act as one to properly execute the plans to minimize damages and casualties.
"All agencies, especially the OCD, DILG, and the AFP (Armed Forces of the Philippines), should prepare for all the onset of this typhoon, so that we can help as many Filipinos as we can," Galvez said.
All PNP units on alert
Over at the Philippine National Police (PNP), all units and stations are likewise on alert.
Brig. Gen. Redrico Maranan, PNP public information office chief, that told reporters at Camp Crame in Quezon City that 22,000 of its personnel are ready for deployment while 2,200 mobility and sea assets are on standby for search, rescue and response operations.
"Ang unang direktiba ng ating Chief PNP sa ating mga kapulisan na madedeploy sa tatamaan ng bagyo ay ingatan nila 'yung kanilang sarili sapagkat hindi nila magagampanan 'yung kanilang tungkulin kung sila mismo ay magiging biktima nung bagyo (The first directive of our Chief PNP Gen. Benjamin Acorda Jr. to our policemen who will be deployed to areas where the typhoon will hit is they should take care of themselves because they will not be able to perform their duties if they themselves become victims)," Maranan said.
Mawar was last seen 1,740 km. east of southeastern Luzon, based on the weather advisory issued by the PAGASA on Friday morning.
Packing maximum sustained winds of 215 kph near the center and gusts of 265 kph, Mawar is expected to enter PAR on Friday night or Saturday morning. (with reports from Priam Nepomuceno & Christopher Lloyd Caliwan/PNA)