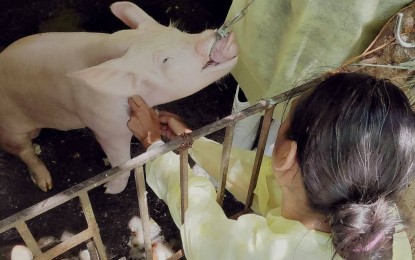 DUMAGUETE CITY – Mayor Felipe Antonio Remollo of this Negros Oriental provincial capital on Friday ordered the tightening of border controls in the city as African swine fever (ASF) cases have been reported in another town.
Dwight Arnaiz Sr., the officer-in-charge of the city agriculture office, said in an interview that ASF checkpoints have been set up at key entry and exit points in this capital after swine deaths were reported in Sibulan municipality situated next to this city.
Police and barangay officials here are tapped to ensure that no pigs coming from Sibulan and Dauin town, where the province's first ASF cases were reported, cannot enter this capital.
"Pigs that come from these towns are not allowed in Dumaguete while those from other towns and cities may enter the city provided they have a certification from their city or municipal veterinary offices that they are ASF-free," he said in Cebuano.
Arnaiz added that swine blood samples have also been collected from the city's slaughterhouse for laboratory testing.
On Thursday, Sibulan Mayor Jose Abiera issued an order citing "the urgent need for the culling of pigs" in at least three areas where swine deaths were reported and laboratory samples showed ASF-positive results.
These areas were identified as Purok Apitong in Barangay Tubtubon, the western portion of Barangay Boloc-boloc, and the southern section of Barangay Magatas.
In a briefing Friday, Provincial Veterinary Officer Belinda Villahermosa said culling within a 500-meter radius of the ASF-affected areas will commence as soon as excavation for the burial site is done.
Villahermosa said at least 300 pig heads in Dauin have already been culled while in Sibulan town, some 50 to 60 pigs are being profiled and depopulation will begin immediately thereafter.
She called on hog raisers to stop feeding their pigs with swill as initial investigation showed that the ASF cases in Dauin were caused by pigswill coming from the city market here. (PNA)