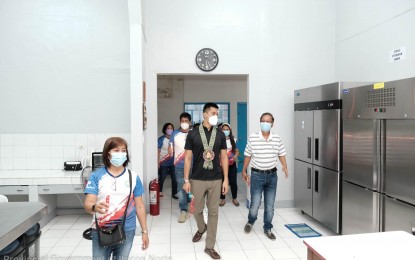 LAOAG CITY–A new outpatient department (OPD) of the Gov. Roque B. Ablan Sr. Memorial Hospital in this city is now open to cater to more patients here.
The expanded OPD worth more than PHP10 million was funded by the Department of Health (DOH) under the Health Facilities Enhancement Program (HFEP). It was inaugurated last Wednesday.
Dr. Rogelio Balbag, executive director of the Ilocos Norte Hospital and Management Council, said on Friday that the new outpatient department will house more medical specialists and visiting consultants to accommodate more patients with basic and adequate health services.
"Soon, our expanded OPD will offer more services to include rehabilitation medicine, radiology, orthopedic surgery, and other specialists," said Balbag in an interview, citing the OPD is open on weekdays, from 8 a.m. to 5 p.m.
The current existing departments at the OPD are internal medicine, pediatrics, obstetrics and gynecology and surgery.
To avoid overcrowding at the OPD, guards on duty limit the entry of patients seeking medical consultation.
This time, more patients can now be accommodated following the continuing upgrading of facilities and improvement of health services.
The provincial hospital has also engaged the services of private medical practitioners as visiting physicians, consultants, and specialists.
Under the memorandum of agreement, the private medical practitioner shall avail and make use of the provincial hospital's facilities, equipment, instruments, and manpower.
In return, they shall actively participate in the hospital's activities and share their expertise in rendering free services to patients admitted in any basic or ward accommodation. (PNA)