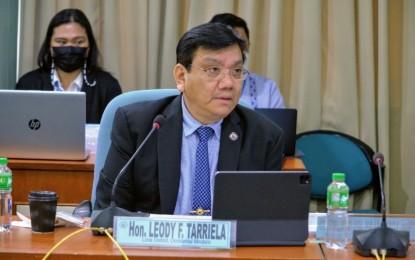 MANILA – Occidental Mindoro Rep. Leody Tarriela on Friday called out the National Grid Corporation of the Philippines (NGCP) and the Energy Regulatory Commission (ERC) over the long-delayed interconnection of the Island of Mindoro to the Luzon grid.
In a statement, the lawmaker noted that as early as 2011, the NGCP has already committed to connect Mindoro Island to the Luzon grid with a budget of PHP11 billion, but until now the said commitment remained just a commitment.
He said Mindoro, the seventh largest island in the country composed of the provinces of Occidental and Oriental Mindoro, has long suffered from unreliable and expensive electricity due to being off grid despite the fact that it's just 90 kilometers from Batangas.
"NGCP's franchise mandates it to plan, construct, operate and expand our national transmission network. The expansion includes connecting the main grid to off grid areas like the islands of Mindoro and Palawan," Tarriela said.
He said that what is appalling was the reported PHP24 billion that NGCP shareholders divided among themselves as dividends in 2014, despite just an income of PHP22 billion for the year.
"Tapos, ang interconnection ng Mindoro, hindi na ginawa (After that, they did not construct the Mindoro interconnection)," he said.
Based on available records, it was only in June 2021 that NGCP filed an application with the ERC seeking the approval of the Batangas – Mindoro interconnection project.
From PHP11 billion in 2011, Tarriela said the budget now to connect Mindoro to the Luzon grid is already about PHP16.7 billion.
He is hoping that the ERC will finally approve the application for the project which has been pending for a year and a half with them, fearing that the NGCP budget for the interconnection project would be again declared as dividends.
"Tapos, ang pangakong interconnection ng Mindoro sa Luzon Grid, na pati ang Palawan ay makikinabang, ay manatiling isang pipe dream (If that happens, the promised interconnection of Mindoro to the Luzon grid, which would also benefit Palawan, will just remain a pipe dream)," he said.
"Kung nagawa na ito noon pa, matagal na sanang nasolusyonan ang halos perpetual na brownouts sa aming probinsya (If this would have been completed earlier, the perpetual brownouts in our province would have been addressed a long time ago)," Tarriela said. (PNA)