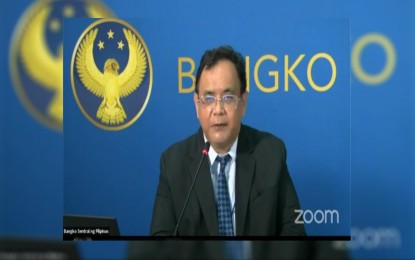 MANILA – Demand for the Bangko Sentral ng Pilipinas' (BSP) 28-day Bill remained strong on Friday and its average rate declined following monetary authorities' decision to keep the central bank's key rates steady last week.
Data released by the BSP showed that rate of the securities went down to 6.6762 percent from 6.7222 percent during the auction on May 19.
BSP kept the offer volume at PHP120 billion and bids amounted to PHP172.06 billion. The auction committee made a full award.
In a statement, BSP Deputy Governor Francisco Dakila Jr. said range of yields that are accepted in this week's securities auction "shifted lower but widened to 6.6000-6.7140 percent."
"Demand for BSP Securities remained strong following the BSP's decision last week to pause its monetary policy tightening," he said.
He added that the central bank's "monetary operations will continue to be guided by its assessment of the prevailing liquidity conditions and market developments."
BSP's policy-making Monetary Board (MB), during its rate setting meet on May 18, maintained the central bank's policy rates after noting the deceleration of domestic inflation rate, which is projected to return to within the government's 2 percent to 4 percent target band starting the last quarter of the year.
This, after rate of price increases decelerated for the third consecutive month last April when it slowed to 6.6 percent after hitting a 14-year high of 8.7 percent in January.
Relatively, the MB slashed the central bank's average inflation rate projection for this year from 6 percent to 5.5 percent and the 2024 forecast from 3.1 percent to 2.8 percent. (PNA)