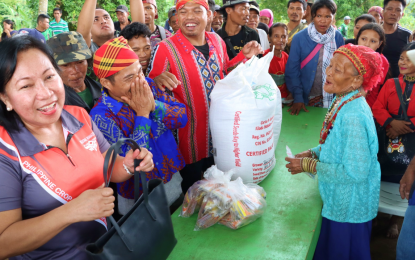 ISULAN, Sultan Kudarat – A leader of an Indigenous Peoples (IP) community here is elated over the government's PHP500,000 agricultural support.
The Department of Agriculture-12 (DA-Soccsksargen) provided the IPs with hybrid corn and certified rice seeds, fertilizers, rodenticides, assorted fruit trees, organic fertilizer concoctions, open-pollinated varieties of vegetable seeds, organic fertilizer concoctions, food packs, milk products, and biocontrol agents.
"We thank you for this program. You went out of your way to reach us here in the upland community," Manobo tribal leader Babing Dondoy told reporters in Barangay Laguilayan here on Friday.
"These projects are of great help to us, I thought we were already abandoned by the government," he added.
With the vision of empowering IPs through agricultural initiatives, the agency launched in this town Friday the Sustainable Extension Activities: Outreach Program for the IP Communities in Region 12.
DA-12 officer-in-charge Sailila Abdula led the outreach program and distributed inputs for IP farmers.
A tree-planting activity and ceremonial milk toasting were also held during the program to mitigate the impacts of climate change and combat malnutrition among children. (PNA)