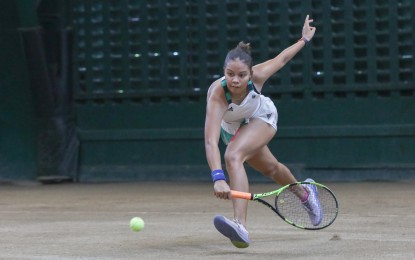 MANILA – John Bryan Otico and Arthur Craig Pantino hurdled their respective semifinal opponents on Friday to arrange a title showdown in the men's singles of the first Metro Manila Open tennis tournament at the Philippine Columbian Association (PCA) indoor shell court in Paco, Manila.
Otico, the No. 9 seed, bounced back from a first set loss to beat Noel Damian Jr., 4-6, 6-1, 6-4, while No. 10 seed Pantino stunned sixth seed Joma Pague, 6-3, 6-7 (8), 6-3.
The finals will be played on Sunday at 1 p.m.
Otico, 23, and Pantino, 22, were teammates at the Loyola Marymount University (LMU) in Los Angeles, California. Both spent their junior years training under Jun Toledo, head coach of the Philippine Tennis Academy headed by Romy Chan.
"I'm happy for both of us reaching the final. It will be an interesting match because we know each other's game," said the 5-foot-8 Otico, who came back after four years with a business management degree.
Otico, who was born and raised in Maramag, Bukidnon province earned the distinction of being the youngest PCA Open champion when he won the title at the age of 18 in 2017.
Pantino, an incoming sophomore sociology student, is also expecting a tough match.
"It will be hard to beat Bryan, he's a very good player. I'll just have to do my best to win," said the 5-foot-9 native of Cebu City. He will return to the US in August.
Top seed Marian Capadocia and second pick Alexa Joy Milliam also reached the women's singles finals of the tournament sponsored by Sulu Vice Governor Toto Tan, Marawi City Mayor Majul Usman Gandamra, East-West Customs Brokerage Corp., San Jose Salt, Gimaca Realty Corp. and Legalas Trading Corp.
Capadocia, who hails from San Jose de Buenavista in Antique province, downed Filipino-American teenager Makeilah Nepomuceno, 6-2, 6-0.
The 17-year-old Milliam, on the other hand, pulled off a 7-5, 6-4 win over wild card Jessele Marie Ante.
Milliam, a native of La Carlota City in Negros Occidental province, captured the Rina Cañiza Open at the PCA outdoor court last February.
In the women's doubles category, No. 1 pair Shaira Hope Rivera and Alyssa Mae Bornia outplayed Milliam and Ante, 6-3, 6-4, to reach the championship round.
Rivera, who plays for the national team, and Bornia, team captain of UAAP champion National University, will face Elizabeth Abarquez and Rovie Baulete, who stunned the third-seeded tandem of Capadocia and Nepomuceno, 6-2, 6-2, in the semifinals.
The event sanctioned by the Philippine Tennis Association (Philta) offers PHP300,000 to the men's singles champion and PHP150,000 to the women's singles champion. Cash prizes at stake in the doubles competition are PHP80,000 in the men's division and PHP50,000 in the women's and mixed divisions, respectively. (PNA)