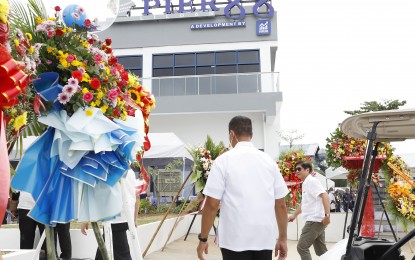 MANILA – The House of Representatives is scheduled to approve two more Legislative-Executive Development Advisory Council (LEDAC) priority bills on final reading this week before the first regular session of the 19th Congress adjourns sine die on June 2.
The bills are the proposed Philippine Salt Industry Development Act and Bureau of Immigration Modernization Act that would bring to 33 the total number of LEDAC priority measures approved by the House.
"We are doing our part in supporting the President's socio-economic development agenda by passing these urgent proposed pieces of legislation that would sustain our economic growth and create more job and income opportunities for our people," Romualdez said in a statement on Sunday.
"We are inching toward accomplishing our goal of approving all of these priorities measures, thanks to the hard and tireless work of our colleagues."
On May 22, the House approved on final reading House Bill No. 8078 providing for a 30-year national infrastructure program until 2052 that focuses on projects of national significance.
One of 42 LEDAC priority bills, the National Infrastructure Program seeks to establish sustained major infrastructure projects of the national government to be undertaken and implemented by concerned national government agencies and government-owned and controlled corporations in the fields of transportation, energy, water resources, information and communications technology, agri-fisheries modernization, food logistics, and social infrastructure.
On Saturday, Romualdez graced the launch of smart port Pier 88 in Liloan town, Cebu province with President Ferdinand R. Marcos Jr. and Vice President Sara Duterte.
"The significance of Pier 88 could not be overstated, as the enhanced mobility in the region will generate countless new business opportunities, bolster economic growth and create more jobs for the people," Romualdez said.
A product of the partnership between the municipality of Liloan and private firms Topline Group of Companies and Pier 88 Ventures, the three-hectare Pier 88 will provide a faster alternative route for daily commuters from the northern part of Metro Cebu going to Mandaue, Lapu-Lapu and Cebu cities, and vice versa.
Romualdez reaffirmed the House support for the "Build Better More" infrastructure program of the Marcos administration.
"The House remains firm in our support to the infrastructure program of the Marcos administration that would uplift the lives of our people by enhancing the quality of critical infrastructure in our transport sector, digital connectivity, power and energy, and health-related initiatives," he said. (PNA)