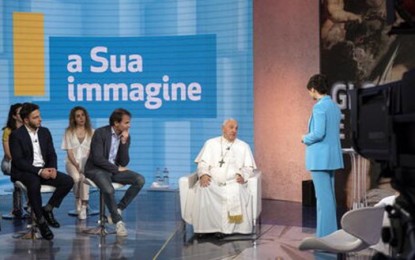 ROME – Pope Francis on Saturday became the first pontiff to visit a TV studio, giving an interview to Italian State broadcaster Rai.
The Argentine pontiff, 86, has given various TV interviews, but always received journalists in the Vatican.
Upon his arrival at the Rai studios at Saxa Rubra in Rome, Francis greeted the staff who responded with a round of applause.
The interview for the program of the Italian Bishops' Conference (CEI), A Sua Imagine (In His Image), is being recorded Saturday but will be aired on June 4, sources said.
The interview had been scheduled for March but was deferred because the pope had to go to the hospital for bronchitis and previously scheduled checkups. (ANSA)