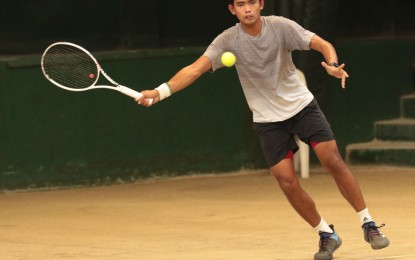 MANILA – No. 10 seed Arthur Craig Pantino was crowned men's singles champion of the first Metro Manila Open tennis tournament after posting a 5-7, 6-3, 2-6, 6-4, 7-5 victory over ninth-seed John Bryan Otico on Sunday.
The Loyola Marymount University (LMU) teammates battled for four hours and 15 minutes at the Philippine Columbian Association (PCA) indoor shell court until Pantino got the better of his rival.
"I'm happy because this is my first Open title," said the 22-year-old player from Ormoc City. He earned PHP300,000 in cash as prize money.
"I had expected a tough match because we've been playing together for 12 years since our juniors and we both know how to counter each other's shots. I'm glad I won," added the incoming sophomore sociology student at LMU.
Otico, who hails from Maramag, Bukidnon province, was disappointed. "I could have done better but I lost steam," said the 23-year-old Otico, who graduated with a business management degree this month.
The 2017 PCA Open champion got PHP150,000 prize as runner-up.
Pantino and Otico were both trained by Philippine Davis Cup player Jun Toledo of the Philippine Tennis Academy (PTA) headed by Romy Chan.
Other products of the PTA are national players Francis Casey Alcantara and Kim Iglupas.
Meanwhile, top seed Marian Capadocia defeated second seed Alexa Joy Milliam, 7-6 (6), 6-0, to pocket the women's singles title of the event sanctioned by the Philippine Tennis Association.
The seven-time PCA Open champion had trailed at 1-4 in the first set but got her act together to grab the lead at 6-5.
The 17-year-old Milliam, who was born and raised in La Carlota, Negros Occidental province, held her serve in the next game to force the tiebreak.
But Capadocia's experience as a member of the national team helped her win the set.
Capadocia sustained her momentum in the second set by using a variety of shots that Milliam, still nursing a hamstring injury she sustained in 2019, failed to counter.
"I'm just trying to get a feel of the game in the first set and once I found my rhythm, my performance got better," said the 27-year-old Capadocia, who beat Milliam, 6-2, 6-2, in their semifinal match at the PCA Open last year.
Milliam, eyeing a second title after the Rina Cañiza Open last February, took her defeat in stride.
"I'm happy that I made it to final. I know it's hard to beat Marian, she's a very good player. I hope to do better next time."
Capadocia took the champion's purse worth PHP150,000 in cash while Milliam settled for PHP75,000.
Meanwhile, qualifiers Elizabeth Abarquez and Rovie Baulete scored a 6-3, 1-6, 10-3 upset victory over top seeds Shaira Hope Rivera and Alyssa Mae Bornia to pocket the women's doubles title.
Abarquez teamed up with Rucel Cero to capture the mixed doubles title over qualifiers Stefie Alludo and Joewyn Pascua, 7-6, 2-6, 10-3, in the tournament sponsored by Great Smile of Sulu Vice Governor Toto Tan, Marawi City Mayor Majul Usman Gadamra, , East-West Customs Brokerage Corp., San Jose Salt, Gimaca Realty Corp., W.L. Foods Corp., Mary Grace Foods, Inc., Legalas Trading Corp., Technifibre and League of Municipalities in the Philippines. (PNA)