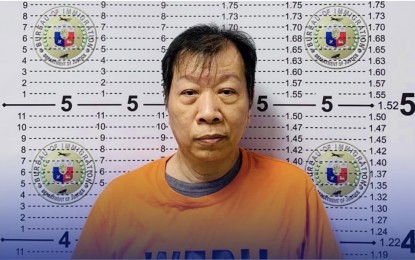 MANILA – The Bureau of Immigration (BI) on Monday said it is set to deport a 60-year-old Chinese national wanted for misrepresenting himself as a Filipino.
Immigration Commissioner Norman Tansingco said Tai Fang Ching was arrested last May 16 along F.B. Harrison Street in Ermita, Manila by agents from the BI intelligence division.
"Aliens who flaunt and make a mockery of our immigration and citizenship laws do not deserve the privilege to stay here. They should be expelled and banned from re-entering the country," he said in a statement.
The arresting agents were armed with a warrant of deportation issued by the BI board of commissioners in July last year when it ordered Tai's expulsion for being an undesirable alien.
Tai's deportation order came after investigation revealed that he assumed the name of one Albert Torres Abaya when he filed the incorporation papers of his business with the Securities and Exchange Commission (SEC).
He also used the same name in acquiring a driver's license from the Land Transportation Office (LTO) and in registering his business with the Bureau of Internal Revenue (BIR) as well as other public documents.
Tai is currently detained at the BI warden facility in Camp Bagong Diwa, Taguig City pending his deportation to China.
Once deported, he will be included in the immigration blacklist, perpetually banning him from reentering the Philippines. (PNA)