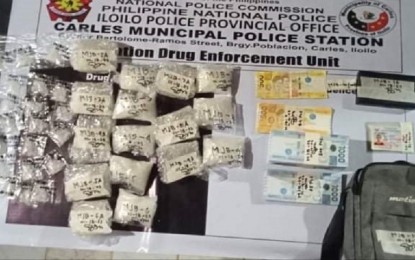 MANILA – Philippine National Police (PNP) chief Gen. Benjamin Acorda on Monday said anti-drug units across the country will continue to be operational as he reiterated the need for a strict vetting of personnel assigned to these offices.
Speaking to reporters in Camp Crame, Quezon City, the country's top cop said the tight screening of police officers assigned to units under the PNP Drug Enforcement Group (PNP) is part of measures to overhaul its operations.
"We will really check who should be placed in each unit and offices. After studying, there are other aspects that we saw that became a problem. We saw that the problem that really became more of the personnel. It's not on the office but the personnel so what we wanted to do is really the proper vetting of personnel, continuous monitoring, continuous background investigation on them to make sure that our personnel don't go left just walk straight. It's more of vetting rather than recalling," Acorda said.
This came amid earlier proposals to dissolve the 17 special operations units (SOUs) of the PDEG following the involvement of some of its members in the recycling and pilferage of illegal drugs confiscated in operations.
The most controversial of which was the October 2022 operation in Manila wherein PDEG personnel, some of whom were assigned to the PDEG-SOU of Region 4A, were accused of stealing kilos of shabu from the 990 kilos confiscated from a lending agency owned by dismissed police master sergeant Rodolfo Mayo Jr.
Acorda, who used to be the head of the PNP's Directorate for Intelligence, said he wants to maximize all the information that must be obtained to ensure anti-narcotics personnel of the PNP are all 'clean'.
"First, there are already cases filed in different regions against these operatives and to dislocate them and to relieve them or to bring them all to the NHQ (National Headquarters), their cases might be affected. There is also a pending provision stating that no police officer must be transferred if he has an ongoing case," he stressed.
PDEG director Brig. Gen. Faro Antonio Olaguera, meanwhile, said they will comply with the PNP chief's order.
"This is a welcome development. As I have said before, the Chief PNP has spoken about the future of PDEG. If the reorganization or dissolution of our SOUs will not push through, we will humbly submit to the wisdom of the PNP chief. Of course, one of the main factors is the expenses and the relocation aspects or the accommodation of the troops once they are reassigned here at the NHQ," Olaguera told reporters.
He said the PDEG is coming up with measures for the strict vetting of personnel and the creation of special teams to work on particular projects or objectives and that these will be intelligence-driven and based on the PNP's case operation plan (COPLAN).
A total of 117 operatives of the PDEG have been sacked from their posts as of Monday, according to Olaguera.
"As of today yun pa rin yung number ng PDEG personnel na na relieve, 117 of them and the background investigation that was initiated, lifestyle check, ongoing pa naman yun we will see once na matapos yung profiling natin saka lifestyle checking kung may kailangan pa na i-alis natin dito sa PDEG (that's still something we will see once we finish our profiling and also lifestyle checking if there is anything else that we need to remove from PDEG)," Olaguera said.
"Before we conduct that reshuffling, we will see to it na meron proper vetting (and) also we are waiting on the result of the complete background investigation or profiling as well as lifestyle checking which we do now," he added.
He said the move is also aimed at ensuring that those who have a derogatory record will not be able to return to the PDEG or any anti-illegal drugs unit of the PNP. (PNA)