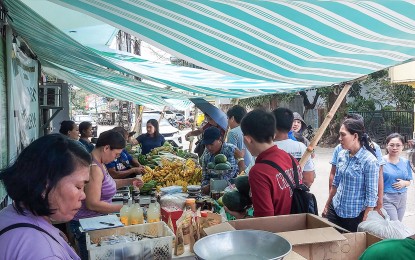 LEGAZPI CITY – Twenty agrarian reform beneficiaries organizations (ARBOs) in Masbate have earned over PHP600,000 through the "Agraryo Merkado" fair organized by the Department of Agrarian Reform-Bicol (DAR-5) together with its Masbate provincial office.
DAR-5 spokesperson Geri Buensalida said the holding of the weekly fair at the DAR-Masbate provincial office compound will continue as part of the government intervention to help farmers earn additional income.
"Our DAR Masbate provincial office guides the farmers with the marketing strategies, promotion of products and expansion of sales until they can be wholesalers. Monitoring as to the continuity of the project will also be provided by our office," he said in an interview Monday.
Buensalida said the project has earned PHP627,116 in just 10 Thursdays since the fair started on March 23.
Every week, only eight of 20 invited ARBOs can sell their products at the local "tiangge" or flea market due to limited space at the venue. The groups alternate each week, ensuring that there are always readily available products on display in front of the office for customers to buy.
The farmers sold their locally processed food items and newly harvested farm produce directly to consumers at fair-trade prices, ensuring fresh, safe and nutritious products.
The best-selling items were beef tapa, dried squid, dried fish, pork tocino, and pork longanisa. Other processed foods made and sold by the farmers included fish paste, chili garlic, bagoong alamang or shrimp paste, papaya pickles, chayote pickles, bamboo shoots pickles, salabat (ginger tea), turmeric, coco vinegar and pure honey.
Sweets and snacks like sampaloc (tamarind) candy, banana chips, rice "kropek" and chocolate moron were also among the popular commodities.
Consumers also bought well-milled rice (red, brown, black and glutinous rice), poultry and meat products such as eggs, dressed chicken and hog meat, as well as fruits, root crops, and vegetables.
The Agraryo Merkado initiative has also expanded to include fertilizers and hand-made products such as baskets, which increased the trade fair's profitability.
In a statement, Herald Tambal, Masbate provincial agrarian reform chief, expressed satisfaction with the project, saying "Helping out the local farmers through this so-called social responsibility project we organized for them seems to have become more personal rather than mandatory."
"Each week, our personnel generously assist farmers in setting up tiangge and selling their goods, even for those unable to come due to remote locations," he said.
Tambal encouraged consumers to prioritize local farmers and their businesses when buying fruits and vegetables.
"By supporting Agraryo Merkado, consumers can help promote agrarian reform, reduce social injustices and help local farmers and their families," he said.
Meanwhile, also in Masbate, DAR-5 has granted eight ARBOs with equipment and starter kits worth PHP3.07 million for cattle production and fattening that is set to benefit 369 agrarian reform beneficiaries. (PNA)