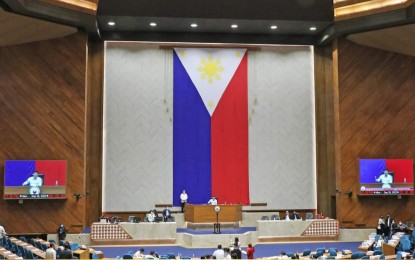 MANILA – The House of Representatives on Monday approved on the third and final reading a bill seeking to declare the maritime zones of the Philippines under its jurisdiction to establish legal bases for the conduct of social, economic, commercial and other activities in those areas.
With 284 affirmative votes, the chamber approved House Bill 7819 or the proposed Philippine Maritime Zones Act, which, if enacted into law, will provide flexibility in enacting laws pertinent to the rights and obligations that the Philippines can exercise over its maritime zone.
The measure provides for a general declaration of the maritime zones under the jurisdiction of the Philippines, which include internal waters, archipelagic waters, territorial sea, contiguous zone, exclusive economic zone (EEZ) and continental shelf.
The bill defines the maximum extent of territorial sea (12 nautical miles), contiguous zone (24 nautical miles), EEZ (200 nautical miles) and continental shelf.
HB 7819 also allows the delineation of continental shelves extending beyond 200 nautical miles, in accordance with Article 76 of the United Nations Convention on the Law of the Sea (UNCLOS).
It also provides for sovereign rights over these maritime zones, thus establishing the Philippines' exclusive rights to explore and exploit living and nonliving resources found in these zones, in accordance with the UNCLOS and other existing laws and treaties.
The bill also provides for the exercise of jurisdiction over these zones with regard to rights and duties provided for in the UNCLOS.
Where the maritime zones defined in said Act overlap with the maritime zones of a neighboring State, the common boundaries shall be determined by agreement with that State in accordance with the relevant principles of delimitation under international law, including the UNCLOS.
It also states that the rights of the Philippines relative to its maritime zones and entitlements shall be exercised in accordance with the UNCLOS, and the awards rendered by the Arbitral Tribunal in Permanent Court of Arbitration (PCA) Case 23 No. 2013-19, in the matter of the South China Sea Arbitration between the Republic of the Philippines and the People's Republic of China, handed down on July 12, 2016, at The Hague. (PNA)