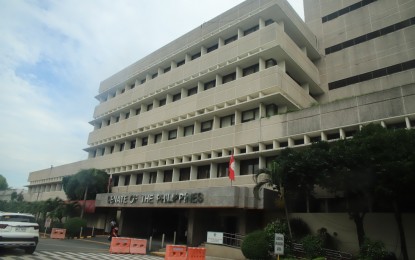 MANILA – A senator proposed before the plenary on Monday stronger sanctions against resource persons who lie during investigations and inquiries.
In his manifestation, Senator Alan Peter Cayetano cited Jhudiel Rivero, who recently filed a counter-affidavit recanting his previous testimonies before the Department of Justice (DOJ) regarding the slay of Negros Oriental Governor Roel Degamo and nine others.
"Later, three more suspects did the same. And if you monitor the [former senator Leila] De Lima case, you would see also someone who recanted," Cayetano said.
"Lanta-lantaran ng nagsisinungaling sa harap ng Senado (They are openly lying before the Senate)."
Rivero, through his counsel, claimed he was coerced by the police into admitting his involvement in the March 4 slay and that he does not know the suspected mastermind, Negros Oriental 3rd District Rep. Arnolfo Teves Jr.
Cayetano proposed that the Committee on Public Order and Dangerous Drugs, chaired by for Senator Ronald Dela Rosa, reopen the inquiry on the Degamo murder but to be joined by the Committee on Justice and Human Rights of Senator Francis Tolentino.
"The Committee on Justice could focus on the laws regarding lying under oath, including perjury and contempt," he said.
Senate President Juan Miguel Zubiri agreed to increase the sanctions and jail time for those who will be cited in contempt during their investigations.
"It's becoming to be a norm now. They are recanting. They refuse to answer. They're giving us, all the agencies, the roundabout on their answers. So I think it's about time," Zubiri said.
Senate Minority Leader Aquilino Pimentel III emphasized that the enforcement of the existing laws should be the first step.
"The current law, kahit anuman ang penalty niyan, i-enforce na po natin yan at bumalik na po 'yung pagbibigay ng sample. At the same time, bumalik na rin 'yung (The current law, whatever its penalty, should be enforced and bring back the giving of sample. At the same time, bring back also the) deterrent effect of our criminal laws," Pimentel said.
Zubiri has ordered the Senate secretariat to build a detention facility, separate from the main building, for resource persons who will be cited in contempt.
Fake uniform bill
Meanwhile, Senator Jinggoy Estrada also wants higher penalties for persons using uniforms of the Armed Forces of the Philippines, Philippine National Police and Philippine Coast Guard.
Under Senate Bill No. 2151, Estrada wants a fine of PHP20,000 and 10-year imprisonment from the current PHP2,000 to PHP5,000 and jail time of two to five years, amending Republic Act 493, which regulates wearing, use, manufacture and sale of insignias, decorations and medals, badges, patches and identification cards prescribed for uniformed personnel.
The bill would serve as a strong deterrent against fake policemen and military personnel, especially those illegally using the uniforms to commit crimes, the bill explained.
Persons who will be found to be engaged in the unauthorized manufacture and sale of the uniforms, including the production of the textile, should be made to pay a fine of PHP5,000 to PHP10,000 and imprisonment of two to five years or both.
"As the defense establishment and our uniformed personnel strive hard to cleanse their ranks of corrupt members, the illegal use of their uniform by people who do not belong to the organization and posing as legitimate members while doing unlawful activities, cause problems to the entire force and negatively affect the people's trust and confidence on authorities," Estrada said in a news release on Monday. (PNA)