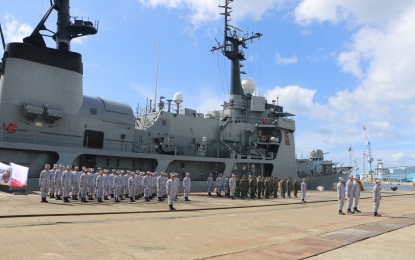 MANILA – The Philippine Navy (PN) has deployed an offshore patrol vessel BRP Andres Bonifacio (PS-17) to take part in the multilateral naval exercise "Komodo" which will take place in Indonesia.
In a statement Tuesday, the PN said "Komodo" will take place from June 4 to 8 at Makassar, Indonesia.
The ship departed Naval Operating Base Subic on Monday in send-off rites led by Fleet Marine Ready Force (FMRF) commander Brig. Gen. Edwin Amadar.
"The multilateral naval exercise 'Komodo' aims to enhance facilitating multilateral engagement with international partners as well as to bolster relationship and cooperation among participating navies in building a common understanding about humanitarian assistance disaster response operations and will also focus on maritime interdiction operations," FRMF public affairs office chief Lt. Jonathan V. Carretas said.
"Komodo" is a military exercise by the Indonesian Navy and annually held between the Indian Ocean and the Pacific Ocean. The first iteration of the naval exercise took place in 2014 in Batam.
Also on Monday, the Philippine Army (PA) and the Indonesian Army (Tentara Nasional Indonesia Angkatan Darat) concluded Training Activity Dolphine XV-23 at First Scout Ranger Regiment (FSRR) in Camp Tecson, San Miguel, Bulacan.
Training Activity Dolphine XV-23 is geared at bolstering the tactics, techniques, and procedures as well as sustaining the existing partnership between the two ground forces.
Some 40 participants from the PA's FSRR and Indonesia Army's Komando Cadangan Strategis Angkatan Darat (Kostrad) took part in the exercise that started May 21.
They trained side by side in jungle warfare operations, urban operations and sniping operations during the training activity.
"FSRR commander Brig. Gen. Freddie T Dela Cruz, who served as the closing ceremony's guest of honor and speaker, highlighted the successful attainment of the training activity's goals. He also led the presentation of certificates to participants and a token of gratitude to the Indonesian Army delegation," PA spokesperson Col. Xerxes Trinidad said.
It can be recalled that Philippine Army Scout Rangers and their Indonesian counterparts trained side by side in counterinsurgency and counterterrorism operations at the Taipur Military Camp, Cilodong and Sangga Buana Training Site, Karawang, West Java, Indonesia in April last year. (PNA)