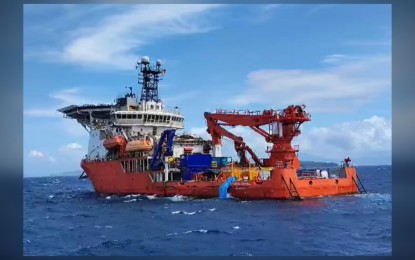 MANILA – The last phase of siphoning operations for the remaining oil off the waters of Naujan town in Oriental Mindoro began Sunday, three months after the massive spill from the sunken M/T Princess Empress, the Philippine Coast Guard said.
PCG Incident Management Team-Oriental Mindoro head Commodore Geronimo Tuvilla said the operations would last from 20-30 days, depending on the weather conditions and subsea progress.
"Once the oil removal is completed, we hope that the process will pave the way for the rehabilitation of affected areas and finally transition to the normalcy of lives of affected Mindoreños," Tuvilla said.
The Dynamic Support Vessel Fire Opal was chartered by Malayan Towage and Salvage Corporation. It left Singapore on May 19 and arrived at Subic Freeport Zone on May 26 before starting operations in Oriental Mindoro.
M/T Princess Empress was loaded with 800,000 liters of industrial fuel oil when it sank off Naujan on Feb. 28.
PCG spokesperson Rear Admiral Armand Balilo said about 120,000 to 240,000 liters of oil is expected to be extracted by DSV Fire Opal.
The oil spill has left significant damage to the environment and affected the daily living of residents, prompting the Marcos administration and non-government organizations to extend aid to the residents in the areas affected by the oil spill.
Several countries have also sent help in the cleanup operations. (PNA)