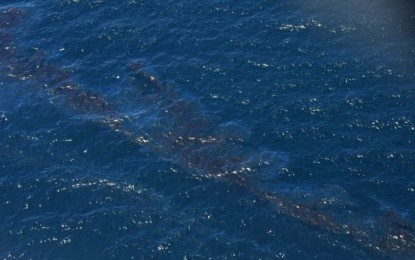 CALAPAN CITY, Oriental Mindoro – The Police Regional Office-Region 4B (PRO-Mimaropa) has turned over cash assistance of PHP1,067,585 to the provincial government of Oriental Mindoro to aid oil spill-affected communities in the province.
The donation released Monday comprised proceeds from the Color Fun Run, a region-wide simultaneous police-initiated activity in collaboration with the local government units, government agencies and stakeholders held April 28.
"We remain committed to serving our communities and providing aid in times of need," Brig. Gen. Joel Doria, PRO-4B director, said during the turnover.
He thanked all those who took part in the fun run to generate funds for families whose livelihoods were disrupted by the oil spill.
This was the second significant donation to victims of the environmental disaster courtesy of the police in less than a month.
On May 3, PRO-4B pooled PHP1,250,624 from contributions of cops for needy families in Pola town.
Pola sustained the most damage from the oil spill, affecting 11 villages, 4,839 families, 24,195 individuals, and seven marine protected areas, Doria said.
Based on the data from National Disaster Risk Reduction and Management Council, Oriental Mindoro sustained an estimated environmental damage of over PHP7 billion and PHP3.8 billion damage to fisheries, including income loss. (PNA)