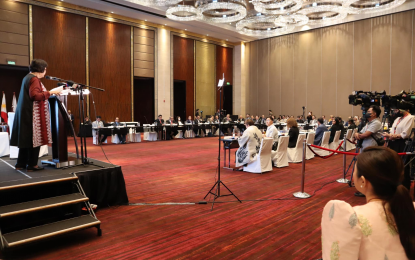 MANILA – Department of Migrant Workers (DMW) Secretary Susan Ople on Tuesday called for a "bold discussion" to ensure the protection of all migrant workers through better migration governance.
During her speech at the Asia-Gulf Cooperation Council Senior Officials Dialogue held at the Bonifacio Global City, Ople encouraged stakeholders to have a bold discussion and collectively work together to be able to achieve Sustainable Development Goals (SDG) and Global Contact on Migration (GCM) objectives.
Among the topics to be discussed include SDG Target 8.8 that "protect labor rights and promote safe and secure working environments for all workers, including migrant workers, in particular women migrants, and those in precarious employment."
Also to be tackled is SDG Target 10.7 which refers to the facilitation of "orderly, safe, regular and responsible migration and mobility of people, including through the implementation of planned and well-managed migration policies."
Also included in the pipeline for discussion are GCM Objectives 8 and 23 which refer to the shared responsibility to "facilitate fair and ethical recruitment and safeguard conditions that ensure decent work."
According to Ople, Objective 23 seeks to "Strengthen international cooperation and global partnerships for safe, orderly, and regular migration."
"In shorthand, what all these means is how do we keep our workers safe as they cross borders, as they look for better opportunities for their families and how to balance the situation, with also the need to meet the needs of our foreign employers for skilled, responsible, and reliable foreign workers," Ople explains.
With the Philippines hosting the discussions, she expressed hope that actual experiences by senior labor migration officials and resource persons from countries of origin in Asia and countries of destination in the GCC would help in achieving its goals.
"From these discussions, we hope to find each other – not that we are lost, but precisely because we move in the same circles – influencing policy, setting directions in labor mobility, migrants' and migrant workers' rights, and gender equality, and other issues," she said.
Aside from the DMW, officials from the Department of Foreign Affairs, the International Organization for Migration, International Labor Organization, United Nations Network on Migration and the Climate Change Commission are also present at the event.
Also present were key government officials from Indonesia, Nepal, Bangladesh, the Kingdom of Saudi Arabia, Bahrain, Qatar, Oman, Pakistan, Sri Lanka and the United Arab Emirates. (PNA)