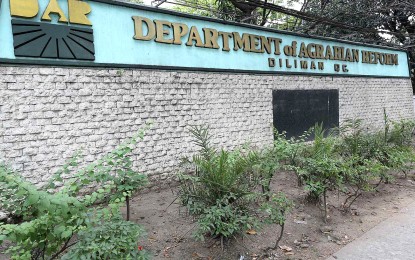 MANILA – Lawyers of the Department of Agrarian Reform (DAR) will now be deputized as counsels in litigations involving just compensation for agricultural lands that are under the Comprehensive Agrarian Reform Program (CARP) coverage.
DAR Undersecretary for Legal Affairs Office Napoleon Galit said in a news release that he has already directed all designated DAR lawyers to "observe proper protocol by entering an appearance in their respective areas of assignment when representing the DAR as counsel on matters involving just compensation."
The order was issued after Solicitor General Menardo Guevarra approved Galit's request "to exercise authority and full and direct control" over all lawyers of the DAR in the handling of just compensation cases before regional trial courts sitting as Special Agrarian Courts.
"The subject representation by the DAR Legal personnel is within the prerogative of the Honorable Secretary of the Department," Galit quoted Guevarra as saying in the latter's reply letter.
Galit said the Solicitor General further stressed that his request does not fall within the coverage of an OSG (Office of the Solicitor General) deputation.
"The appointment of the good undersecretary as head of the legal sector of the DAR is exclusively within the powers of the Department Secretary, and is, therefore, external to the OSG's mandate," read Guevarra's reply to DAR. (PNA)