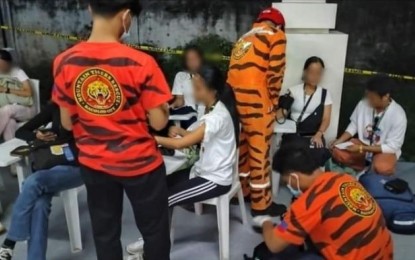 BACOLOD CITY – Some 20 students of Bacolod City College (BCC) fell ill after inhaling colored smoke from the props used during a Physical Education (PE) culmination event at the school's activity center late Monday afternoon.
City Administrator Pacifico Maghari III said on Tuesday seven students were brought to medical facilities, including the five at the Corazon Locsin Montelibano Memorial Regional Hospital, but all of them are already in stable condition.
"So far, everyone is okay. Their (condition) is stable," he told reporters.
BCC administrator Johanna Ann Bayoneta said the affected students received first aid treatment and among those brought to various hospitals, only one was confined upon the decision of the student's parents.
"We made sure all the students were accounted for and safe. This is being monitored through the Office of the Mayor," she said in a radio interview.
The activity involved presentations for the final performance task of freshmen students enrolled in PE classes, she added.
Bayoneta said the affected students experienced anxiety attacks and difficulty of breathing after inhaling the colored smoke.
Teams from the City Disaster Risk Reduction and Management Office (CDRRMO), Philippine Red Cross, Amity Volunteer Fire Brigade and Mountain Tigers Search and Rescue responded to the incident.
Bayoneta said that smoke-producing props, including smoke and fog machines, are not allowed inside the campus.
"I asked the concerned group of students if they were required to bring those props and their reply was negative. Probably in their excitement, they brought it not even knowing these were dangerous and were not for indoor use," the BCC administrator said.
She added that school authorities will meet soon to discuss the incident and to determine where the smoke props came from. (PNA)