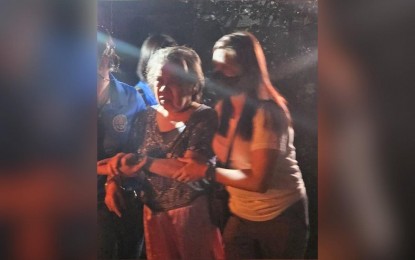 TACLOBAN CITY – The New People's Army (NPA) in Eastern Visayas (Region 8) has suffered a big blow with the recent arrest of one of its leaders and the deaths of four fighters, the Philippine Army said on Tuesday.
Major Gen. Camilo Ligayo, commander of the Philippine Army's 8th Infantry Division, said the arrest of Rosita Solayao Taboy alias Laling, secretary of the NPA Regional Organization Department and member of the rebel's executive committee in Eastern Visayas, is a victory to the government's efforts to end the insurgency.
Taboy and her husband, alias Beto, were arrested by police and soldiers in San Jose Del Monte, Bulacan last May 26. Beto was a demolition expert of the NPA's national operations command.
The couple was also said to be responsible for numerous atrocities committed in the Eastern Visayas region, including the burning of the Smart Communication tower in Catbalogan City in 2000, the assassination of Cafgu Active Auxillary Danilo Nuguit in 2006, and the ambush of military personnel that resulted in the death of 10 soldiers and a 9-year-old civilian in 2010.
In a statement on Tuesday, Ligayo said the NPA's downfall is now more evident as its top leaders are either captured, surrendered or killed.
"The arrest of the couple is another victory for the combined efforts of the Philippine National Police and Armed Forces of the Philippines in pursuit of peace and security. This is a great development in attaining justice in honor of the victims of violence perpetrated by the communist terrorist group in Eastern Visayas," Ligayo said.
Troops seized in their possession one .45-caliber pistol, one .38-caliber pistol, one commercial C4 bomb, blasting caps, assorted mobile phones, laptop, and subversive documents.
Meanwhile, on the deaths of four NPA combatants in a clash in Catarman, Northern Samar last May 28, the Philippine Army also said the incident is a huge setback to the NPA's plan to reinforce a dismantled guerilla front.
The report said two male and two female combatants died during the 15-minute clash that took place in upland Mabini village in Catarman town.
After the clash, soldiers recovered two M16 rifles, two .45 caliber pistols, magazines, and the rebels' personal belongings.
Lt. Colonel Manuel Degay, Jr., commander of the Army's 43rd Infantry Battalion, said in a statement Tuesday that the seven rebels who figured in the clash with government troops was led by Mario Sevillano alias Durok, a notorious rebel leader who perpetrated numerous atrocities in Northern Samar province.
"Furthermore, from the traces of blood observed in the encounter site, and the items left behind, it cannot be denied that there were NPA members who were wounded during the encounter," Degay said.
The military has been monitoring the movement of two remaining guerilla fronts in Eastern Visayas, all operating in Northern Samar.
They are reportedly hiding in the upland villages of Catubig, Las Navas, Silvino Lobos, Palapag, Mapanas and Gamay towns.
Several upland communities in the province are considered the hotbed of the communist terrorist group due to thick forests and poor road networks. (PNA)