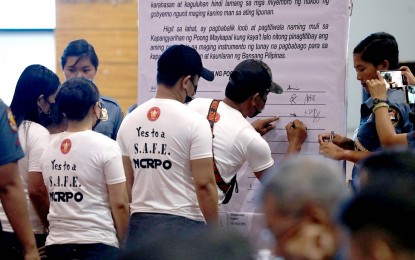 MANILA – A total of 44 former communist rebels on Tuesday renounced their support for the Communist Party of the Philippines - New People's Army - National Democratic Front (CPP-NPA-NDF) and pledged allegiance to the government, the National Capital Region Police Office (NCRPO) has said.
In a ceremony held at the NCRPO Hinirang Multi-Purpose Hall, Camp Bagong Diwa, Bicutan, Taguig City and led by NCRPO Chief, Maj. Gen. Edgar Alan Okubo, and Regional Peace and Order Council (RPOC) chairman and San Juan City Mayor Francis Zamora, the 27 former members of communist front organizations (CFOs) and 17 active members of communist-linked groups pledged their allegiance to the government.
"As chairman of the Regional Peace and Order Council of the National Capital Region, I congratulate the various government agencies, led by the Philippine National Police, for having successfully converted the allegiance of our fellow Filipinos to the Republic," Zamora said. "To the returnees, I welcome you back into the fold and assure you that our government will do everything to help you assimilate into a life of peace and prosperity as citizens of the Republic of the Philippines."
To show their loyalty to the government, the rebel returnees also surrendered 11 firearms to the NCRPO – three improvised home-made shotguns, three .357 caliber revolvers, two M16A1 rifles without attachments, one AK47 rifle, one M14 sniper's rifle, and one M16A1 rifle with an M203 grenade launcher attachment.
Okubo attributed the rebels' successful return to the continuous collaboration between the police and military forces in various communities in Metro Manila and neighboring regions.
He added that the NCRPO, Presidential Anti-Organized Crime Commission, Special Action Force, PNP Intelligence Group, and Joint Task Force NCR have worked together as part of the whole-of-nation approach to end insurgency, as mandated by Executive Order 70, which strengthens the National Task Force to End Local Communist Armed Conflict (NTF-ELCAC).
While under the care of the NCRPO, Okubo said the returnees would undergo a medical evaluation, livelihood training, and other activities to assist them in reintegrating into normal life.
"They will also be guided in preparing the necessary documents to access benefits under the Enhanced Comprehensive Local Integration Programs (E-CLIP) and other government programs aimed at providing new opportunities for those who wish to return," he said.
The Department of Social Welfare and Development will provide them with livelihood assistance.
Okubo said their abandonment of loyalty to the leftist groups and their wholehearted embrace of the true spirit of democracy and unity is a significant step toward a peaceful and prosperous nation for all.
"Our government, under the leadership of President Ferdinand R. Marcos Jr., aims to provide you with long-term livelihood opportunities and a secure and peaceful life. We encourage our fellow citizens who have been misled by wrong ideologies to also return, and rest assured that not only the NCRPO but all branches of government are ready to support you. Together, let us put an end to the evils caused by insurgency and terrorism," he said. (PNA)