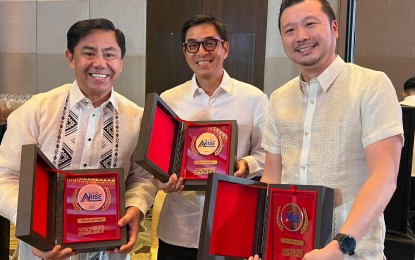 CEBU CITY – The Anti-Red Tape Authority (ARTA) has bestowed Lapu-Lapu City the Accelerating Reforms for Improved Service Efficiency (ARISE) Award, citing its digitalization of government transactions, an official said on Tuesday.
Mayor Junard Chan vowed to keep their government transactions at the Lapu-Lapu City Hall simplified and streamlined, adding that it has been an honor for the historical city to be the only urban area outside the National Capital Region (NCR) to receive the award.
Aside from Lapu-Lapu, the other awardees are the cities of Manila, Parañaque, Muntinlupa, Navotas, Valenzuela, and Marikina.
"One of the reasons why we received this is because of our compliance with eBOSS or electronic Business One-Stop Shop," Chan told reporters.
He said transactions for business permits, real property taxes and other frontline services of the taxpayers have been processed in a faster and smoother way through the one-stop shop.
"Through our digitalization efforts, we have fulfilled the call of our honorable President to improve the bureaucratic efficiency of our country," he added.
Chan said the award from the ARTA of the Office of the President is a testament to his administration's dedication to cutting red tape and embracing digitalization for faster and smoother public services.
The mayor commended his department heads, the management team, and Lapu-Lapu City Lone District Rep. Cindi King-Chan, who supported the digitalization efforts of the local government. (PNA)