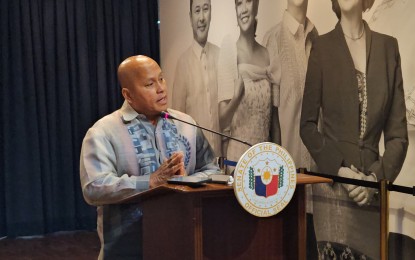 MANILA – The Senate Committee on Public Order and Dangerous Drugs is willing to reopen its investigation into the killing of the late Negros Oriental Governor Roel Degamo which was recently concluded after five hearings.
Senator Ronald dela Rosa, who chairs the panel, said on Tuesday that this time, the Department of Justice (DOJ) might be willing to present the suspects before the committee.
"I-reopen natin yun at imbestigahan yung kanilang retraction, kahit break na (We will reopen that and investigate their retraction. Even if we are at break), we will do that," Dela Rosa said when asked if he is willing to resume the investigation despite the adjournment of Congress sine die on June 2.
This, after Senator Alan Peter Cayetano made a manifestation on Monday at the plenary urging Dela Rosa's committee to reopen the inquiry with the participation of the Committee on Justice and Human Rights.
Since Dela Rosa closed the hearing, Cayetano shared that Jhudiel Rivero filed a counter-affidavit recanting his previous testimony before the DOJ and was followed by four other witnesses to the Degamo case doing the same.
"Whether or not Senator Bato [dela Rosa] would be amenable to opening the hearing again, but also if the Committee on Justice will join and [will] focus on the laws regarding lying under oath, including perjury and contempt," he said.
After a few reactions from colleagues, Cayetano's manifestation was referred to the Committees on Public Order and Dangerous Drugs and Justice and Human Rights.
The fifth suspect on the Degamo killing to recant his testimony was Joven Javier, who denied that he planned and participated in the crime and that he was among those who stayed at properties owned by the family of Negros Oriental Rep. Arnolfo Teves Jr. (PNA)