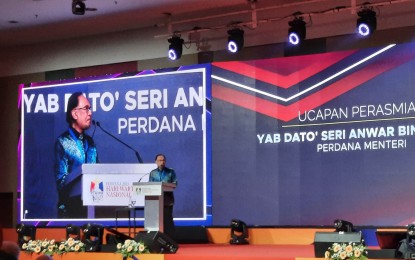 MANILA – Malaysian Prime Minister Anwar Ibrahim has announced the allocation of 1 million Malaysian Ringgit for media practitioners, including former and veteran journalists, in need of help.
The leader made the announcement during the highlights of the three-day National Journalists' Day 2023 or Hari Wartawan Nasional (Hawana) at Hotel Casuarina in Ipoh, Perak in Malaysia on May 28.
The event attended by more than 1,000 media practitioners, including foreign journalists, celebrated the role played by the industry in the country's development, according to various media reports.
The allocation was the initiative of the Communications and Digital Ministry to be implemented by the Berita Nasional Malaysia or Bernama, the country's news agency.
Anwar, in his address mostly in Malay, told the media to inculcate values and morality and to give voice to the concerns of the public.
He said those who have differing views from the government should be given the right to speak without being disparaged which he experienced when he was in the opposition.
The prime minister also called on the Malaysian media to remain independent and be free from any external influence and pressure.
He tapped the help of news outlets to safeguard the nation's harmony by avoiding reports that could stir up racial and religious friction.
Malaysia is a multiracial and multicultural country.
May 29 is declared National Journalists' Day to celebrate the publication of the first edition of the Malay newspaper, Utusan Melayu, in 1939, according to a Bernama news report.
The celebration in Ipoh started on May 27. (PNA)