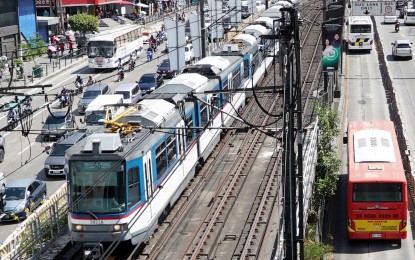 MANILA – The Department of Transportation (DOTr) and Sumitomo Corp. signed Tuesday the extended contracts for the rehabilitation and maintenance of the Metro Rail Transit Line 3 (MRT-3) until July 2025.
Sumitomo – the original designer, builder, and initial maintenance provider of MRT-3 – will continue to be the maintenance and rehabilitation provider of the rail line that runs along EDSA, together with their technical partner, the Mitsubishi Heavy Industries.
During the signing ceremony for the rehabilitation project extension contracts worth PHP7.38 billion, Transportation Secretary Jaime Bautista said the extension "manifests our determination to keep our public transport safe, efficient, and convenient".
"I am confident Sumitomo will be able to do its job well. We also expect Sumitomo to enhance MRT-3's operational efficiency by using four-car train sets from the existing three-car sets. This will allow more passengers to traverse the length of EDSA, complementing the convenience offered by the EDSA Bus Carousel," Bautista said in a news release issued Wednesday.
The rehabilitation works, which were not initially identified during the original rehabilitation project's rapid scoping, are also covered in the contracts.
In addition, a 30-month extension of the Rehabilitation and Maintenance Supervision Consultant contract was approved and signed between the DOTr and Oriental Consultants Global Co., Ltd. and Tonichi Engineering Consultants, Inc. until October 2025.
This covers the supervision of the rehabilitation and maintenance works, as well as the punchlisting and project close-out of Sumitomo.
"What is more significant in extending the maintenance contracts for MRT-3 is ensuring trouble-free operations to Metro Manila's second rapid transit line," Bautista said, adding that the project would make the rail line at par with the train systems of developed countries.
The rehabilitation and maintenance extension contracts cover technical system support, maintenance, spare parts procurement, as well as the provision of other rehabilitation and capacity expansion services to MRT-3, to improve the system's service reliability, capacity, and long-term sustainability.
The DOTr also thanked the government of Japan, through the Japan International Cooperation Agency, for its continued support for the MRT-3, which had its first rehabilitation completed in December 2021. (PNA)