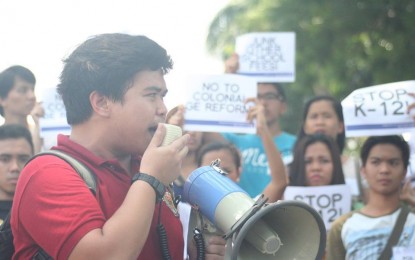 TACLOBAN CITY – The Philippine Army confirmed on Wednesday the death of a campus activist-turned-rebel during a recent clash between government forces and the New People's Army (NPA) in Northern Samar.
The Philippine Army's 8th Infantry Division verified in a press statement that one of the four casualties in the May 28 firefight was Joshua Musico Sagdullas, the Secretary General of Bayan Eastern Visayas and former chairperson of the University of the Philippines Visayas Tacloban Campus (UPVTC) College Student Council.
"His former comrade alias Kurati positively identified the cadaver of Joshua Musico Sagdullas known among armed rebels as alias Miyong served as the political instructor of the group," the Philippine Army stated.
He also identified the three others killed during the armed encounter in upland Mabini village in Catarman, Northern Samar as Geraldine Teopinto alias Luz, the finance officer; Abigail Padula Baselga alias Moana, medical officer; and Vicente Termo.
Alias Kurati surrendered to village officials on April 30, hours after a clash between rebels and soldiers in Santander village in Bobon, Northern Samar. The same clash left seven rebels killed and seriously injured Kurati.
Sagdullas was one of the combatants belonging to the NPA subregional guerrilla unit deployed in Northern Samar to reinforce the NPA front committee 2 dismantled by the military early this year.
Maj. Gen. Camilo Ligayo, commander of the Army's 8th Infantry Division, was saddened by the demise of the young rebel because of his "pointless ideology."
Sagdullas, he said, could have had a better future had he not joined the armed struggle.
"Another life has been lost in the war against the senseless ideology of the communist terrorist group. Let us put an end to this way of life of constant struggle and fear. The door is still open for those who want to surrender and live a better and more peaceful life," Ligayo added.
The military confirmed that he joined the NPA as a full-time combatant in Northern Samar after months of persuading students of the University of Eastern Philippines to join activism.
For several years, Sagdullas was a student activist before his graduation in 2017. As the secretary general of the left-leaning group Bayan Eastern Visayas, he was active in organizing local chapters of the League of Filipino Students, Gabriela Youth and Pulso. (PNA)