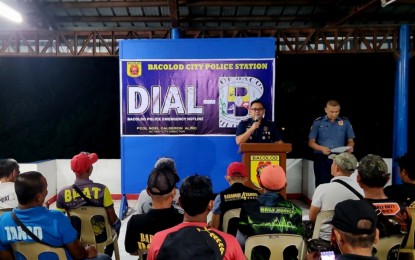 BACOLOD CITY – The Bacolod City Police Office (BCPO) has established a direct emergency hotline between the chiefs of barangay tanod (village watchmen) and acting city director, Col. Noel Aliño, for faster response when requesting police assistance.
"This is to ensure timely conveyance of situation reports, updates, and requests for police assistance via short message service or phone calls 24/7," Aliño said on Wednesday.
Dubbed the "Dial-B," where "B" stands for Bacolod, the initiative provides mobile phones to the tanod leaders in all the city's 61 barangays, allowing them to reach Aliño whenever they need assistance.
The BCPO chief, who met with the chiefs of tanod at the police headquarters for the launching of the "Dial-B" on Tuesday, said the village watchmen, along with the police, are often in the frontlines during crime incidents, public disorders and natural disasters.
"As such, they play a vital role in keeping the community safe and secure," Aliño said.
The "Dial-B," which is poised to become one of BCPO's best practices, would facilitate immediate police response to calls for service and deter crimes by strengthening the partnership between the police and barangay officials, he added.
After he assumed the post as acting city director in mid-April, Aliño also partnered with the city's Public Information Office to provide a quick response to complaints related to crimes and other police matters.
He said the BCPO would act on the concerns raised through the city government's "Isugid kay Mayor" (Report it to the Mayor) online complaints desk once the complaints are referred to him directly. (PNA)