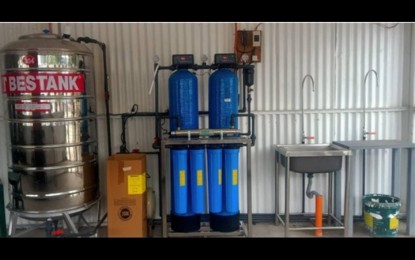 CITY OF SAN FERNANDO, Pampanga – The Department of Science and Technology-Central Luzon (DOST-3) has provided technology interventions to communities that lack a potable water supply in Bataan province.
In collaboration with the Bataan Peninsula State University, the DOST-3 has set up a set of solar-powered ultraviolet water filtration system to each of three remote villages to provide residents access to clean water.
This is under the DOST's expanded implementation of Community Empowerment through the Science and Technology (CEST) program which is aimed at helping build resilient and smart communities by providing science and technology interventions.
The recipients are the island community in Sitio Pulo in Barangay Kabalutan, Orani town and the upland villages of Bangkal in Abucay town and Palili in Samal town where most of the residents belong to the indigenous group Ayta Magbukun.
DOST-3 Regional Director Julius Caesar V. Sicat said on Wednesday that while those residents are used to living with minimum basic necessities, access to potable and clean water is one of their most pressing needs.
Based on the technology needs assessment that was conducted prior to the deployment of the technology, Sicat said the recipient communities encountered challenges regarding access to potable water.
Sicat said that local residents, including women and children, walk downhill to the stream at the foot of the mountain to get pails of water for their daily activities.
"Naglalakad talaga kami pababa ng bundok para manguha ng inuming tubig sa bukal sa paanan ng bundok. Minsan, inaabot talaga kami ng oras (We walk going down the mountain to get drinking water from the stream at the foot of the mountain which sometimes takes hours)," Angelo Aquile, councilor of Barangay Bangkal in Abucay said in a statement.
On the other hand, residents of Barangay Palili in Samal and Sitio Pulo in Barangay Kabalutan, Orani have to buy drinking water from refilling stations or market which is 30 minutes away from their village.
In Barangay Palili, the potable water is either transported through jeepneys or kolong-kolong (improvised motorized trike) while in Sitio Pulo, the water is transported by boats.
"The installation of the water filtration system is seen as a viable solution to the lack of this basic need," Sicat said in an interview.
Each unit that is connected to a water source can provide 1,500 liters of clean drinking water per day and can supply 170 households.
Samples sent to the DOST-3 Regional Standards and Testing Laboratory (RSTL) passed the potability test for drinking water. (PNA)