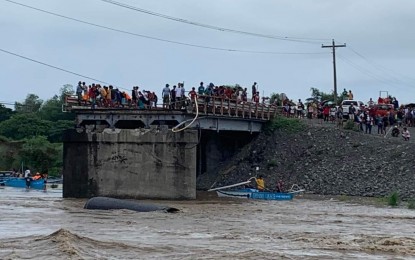 SAN JOSE DE BUENAVISTA, Antique – Fishing boats helped stranded passengers to cross the Paliwan River in going to the northern towns of Antique after the embankment that served as a temporary bridge in the area got washed out on Tuesday.
Antique Provincial Disaster Risk Reduction and Management (PDRRM) Officer Broderick Train said in a phone interview Wednesday that the heavy rainfall enhanced by Typhoon Betty caused the river to overflow and destroyed the embankment.
He said that 10 fishing boats are available to transfer passengers from the municipality of Bugasong side going to Laua-an on the other side of the bridge.
"As a temporary remedy, the fishing boats will ply the commuters until such time that the water will subside. We limit three to four passengers per boat," Train said.
Over a hundred passengers estimated to be on board the six Ceres Bus Line and other roll-on-roll-off buses were supposed to cross the Paliwan River.
While waiting to be transported by fishing boats, those stranded have been advised not to swim or venture to cross the Paliwan River because of the danger.
"When the Paliwan Bridge was cut off by Typhoon Paeng there was someone who still tried to swim across the river but he was drowned because of the strong water current," Train said.
The bridge is yet to be repaired after it was damaged by Typhoon Paeng in October last year.
The Department of Public Works and Highways (DPWH) had provided an embankment to allow vehicles to cross during fair weather.
The DPWH Antique Engineering District has already deployed personnel to check on the situation.
In a separate interview, Sibalom Municipal DRRMO's Joel Odango said that a portion of the national road connecting Barangay Nagdayao to Pis-anan eroded Tuesday midnight after the Tipuluan River has overflowed.
"Commuters are being advised to reroute from Barangay Nagdayao to Mabini until they reach Pis-anan," he said.
Meanwhile, schools in the province of Antique had been suspended due to the red rainfall warning hoisted by the Philippine Atmospheric, Geophysical and Astronomical Services Administration in Antique. (PNA)