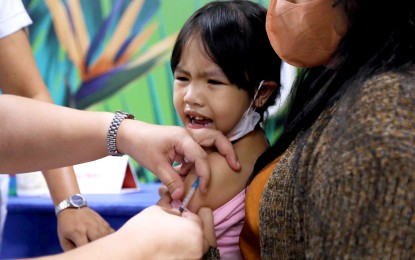 MANILA – More than seven million children have received vaccines for measles and rubella almost a month after the Department of Health launched its campaign against vaccine-preventable diseases (VPDs).
The DOH, in a Viber message to the Philippine News Agency (PNA), said 7,541,867 or 77.72 percent of the target have received the vaccines for measles and rubella as of May 30.
At least 2,188,891 children (67.87 percent) received bivalent oral polio vaccines while a total of 3,600,773 children have received vitamin A supplementation.
The MRV is given to children aged 9 months to 5 years old while the OPV is given to children from zero months to 5 years old.
The DOH officially launched the MRV-OPV supplemental immunization activity or Chikiting Ligtas on May 2.
It aims to protect 95 percent of target children against VPDs, which became prevalent during the coronavirus disease 2019 (Covid-19) pandemic.
According to UNICEF, the Philippines ranks second for the highest number of children with zero doses in East Asia and the Pacific Region and fourth in the world between 2019 and 2021.
From 87 percent coverage in 2014, the country's childhood immunization rates went down to 68 percent in 2019.
This resulted in about 50,000 measles cases that year, of which 637 died.
While measles, rubella, and polio are highly contagious and could lead to premature death, the DOH emphasizes that they are preventable through immunization, which is offered for free. (PNA)