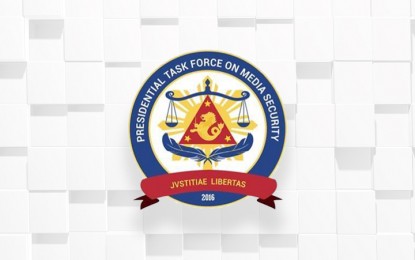 MANILA – A PHP50,000 reward awaits anyone who can give information that could lead to the arrest of the suspect in the killing of radio broadcaster Cresenciano "Cris" Bundoquin in Calapan City, Oriental Mindoro, the Presidential Task Force on Media Security (PTFoMS) announced Wednesday.
Bundoquin was gunned down by two motorcycle-riding suspects at around 4 a.m. on Wednesday near a local store at Sta. Isabel village in Calapan City, Mindoro Oriental.
Bundoquin is known as the host of "Ayos Mandin" show on dwXR 101.7 Kalahi FM.
PTFoMS executive director Paul Gutierrez said one of the killers, particularly the driver of the motorcycle used in the shooting, was shot dead by responding police officers.
The actual gunman remains at large and is now the subject of a police manhunt, Gutierrez said.
"In this regard, through the help of a civic-minded individual who declined to be named, the PTFoMS is offering a reward of PHP50,000 for any information leading to the suspect's immediate arrest," he said.
Gutierrez offered condolences to Bundoquin's family and friends and assured that the PTFoMS is working with the Department of Social Welfare and Development to provide assistance to the slain radio broadcaster's family.
"The Presidential Task Force on Media Security (PTFoMS), along with the Presidential Communications Office and the Department of Justice, convey their sincerest sympathy to the family and friends of Mindoro Oriental radio blocktimer, Cresenciano 'Cris' Aldovino Bunduquin," he said. "We are also reaching out to the family of Bundoquin so that other government assistance can be provided to them to help alleviate their suffering during this period."
Gutierrez lauded the Philippine National Police (PNP) chief Gen. Benjamin Acorda Jr. and Police Regional Office in Mimaropa (PRO-4B) director Brig. Gen. Joel Doria for the creation of a Special Investigation Task Group that will handle Bundoquin's case.
He also commended the Presidential Anti-Organized Crime Commission for providing full support to the PTFoMS to solve the killing of Bundoquin "at the soonest time possible."
"As this is an ongoing investigation, we urge our media colleagues not to engage in any speculation but to instead contribute to its immediate resolution by providing us with positive and verifiable information. Nasa ating pagtutulungan ang mabilis na resolusyon ng ano mang kaso (Our unity will lead to the speedy resolution of any case)," Gutierrez said.
"Moving forward, we assure the public that the PTFoMS, as a national inter-agency task force mandated to protect the life, liberty and security of all members of the press, shall not fail in its mandate," he added. (PNA)