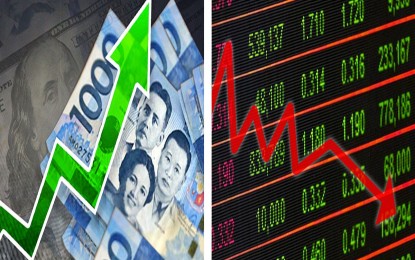 MANILA – End-of-the-month window dressing and the impact of the latest Morgan Stanley Capital International (MSCI) rebalancing resulted in the negative close of the local bourse's main index but the peso strengthened to the US dollar on Wednesday.

After rising the previous day, the Philippine Stock Exchange index (PSEi) shed 0.51 percent, or 33.31 points, to 6,477.36 points.

All Shares followed with a decline of 0.48 percent, or 16.75 points, to 3,458.30 points.

Most of the sectoral indices also slipped during the day – Property, 1.87 percent; Services, 1.02 percent; Industrial, 0.32 percent; and Holding Firms, 0.20 percent.

On the other hand, Financials rose by 0.44 percent while Mining and Oil was almost unchanged after rising by 0.01 percent.

Volume reached 2.27 billion shares amounting to PHP24.54 billion.

Decliners led advancers at 94 to 83 while 49 shares were unchanged.

Luis Limlingan, Regina Capital Development Corp. head of sales, said local stocks tracked the mixed results of their US counterparts.

Limlingan said among the drivers in equities trading in recent days is the debt ceiling issue in the US.

"The Fiscal Responsibility Act appeared poised to pass a key committee hurdle on Tuesday, with a full house floor vote expected on Wednesday night, according to a tentative house voting schedule," he said.
Meanwhile, oil prices fell in the international market "on concerns about whether US Congress will pass the US debt ceiling pact and as mixed messages from major producers clouded the supply outlook ahead of the OPEC+ meeting this weekend."

Limlingan said Brent crude oil futures fell by 4.58 percent to USD73.54 per barrel and the West Texas Intermediate by 4.42 percent to USD69.46 per barrel.

Despite the negative close of the main equities index, the peso gained against the US dollar and ended the day at 56.15 from its 56.31 finish a day ago.

It opened the day weaker at 56.3 compared to the 56.07 start in the previous session, trading between 56.34 and 56.1 and averaging 56.241.

Volume declined to USD1.07 billion from the previous session's USD1.39 billion.

Rizal Commercial Banking Corp. chief economist Michael Ricafort said the peso corrected partly because of the drop in global oil prices, which increased expectations for continued deceleration of the inflation rate.

He forecast the peso to trade between 56.05 and 56.25 against the US dollar on Thursday, noting that the next important resistance level since seven months ago is between 56.30 and 56.95. (PNA)