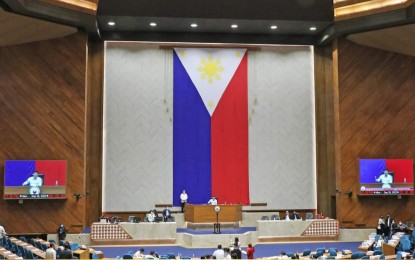 MANILA – The measure promoting the development of the country's downstream natural gas industry hurdled second reading approval at the House of Representatives.
During Wednesday's plenary session, the chamber passed through voice voting House Bill 8456, or the proposed Philippine Downstream Natural Gas Industry (PDNGI) Development Act, which is a legislative priority of President Ferdinand R. Marcos Jr.
House Committee on Energy chair and Marinduque Rep. Lord Allan Velasco said the priority legislative measure aims to promote the role of natural gas as a safe, environment-friendly, efficient and cost-effective source of energy.
Velasco further noted that the measure would be an indispensable contributor to grid security, especially with the entry of more intermittent renewable energy sources through the creation of favorable conditions for establishing the PDNGI.
He pointed out that the Philippines still lacks a clear, comprehensive and integrated legislative framework that would serve as a pillar toward achieving the rapid development of the country's natural gas sector.
"The lack of such clear policies is detrimental to the thrust of the Department of Energy to attract foreign investors to invest in our natural gas potentials or importation or transmission of the same," he said.
He said the bill would promote the development of the Philippines as a liquefied natural gas trading and transshipment hub within the Asia-Pacific region.
The measure mandates the Department of Energy to be the lead government agency responsible for the supervision and monitoring of the development of the PDNGI, and the regulation of the construction and operation of natural gas pipelines and related facilities for the transmission, distribution and supply of natural gas.
Meanwhile, the Energy Regulatory Commission shall have the sole regulatory responsibility for establishing the rates and related terms and conditions of service for the transmission and distribution, regasification and supply of natural gas. (PNA)