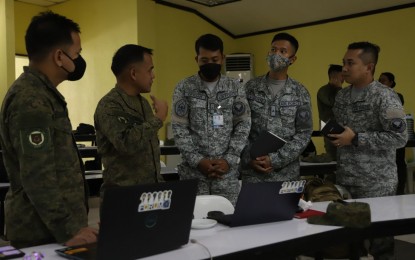 MANILA – The Philippine Army (PA) and the Philippine Air Force (PAF) will conduct a second series of interoperability exercises (IOX) within the next few days.
PA and PAF planners met in Fort Bonifacio, Taguig City Wednesday to plan for the latest IOX.
"PA and PAF planners discussed the proposed concept of execution of the interoperability IOX and force requirement, logistical requirement, and assets that will be used," Army spokesperson Col. Xerxes Trinidad said Thursday.
He added the exercises are geared at ensuring the interoperability of ground and aerial units for joint operations and to array and integrate PA and PAF capabilities for more effective joint operations.
The 2nd PA-PAF IOX will be held in the area of operations of the 5th Infantry Division in Cagayan Valley and Cordilleras.
No specific dates nor the number of participating Army and Air Force personnel were given for security reasons.
It can be recalled that the first-ever PAF-PA IOX, which addressed gaps in joint operations and achieved seamless air-to-ground communications and operations between the two service branches, took place from March 7 to 11, 2022 at the 2nd Infantry Division's area of operations -- Calabarzon and parts of Mimaropa except Palawan.
Around 1,000 soldiers and airmen participated in last year's PA-PAF IOX which consisted of military free-fall, bundle drop, helicopter sniping, fast rope insertion-extraction system, air evacuation, and communications and electronics exercise. (PNA)