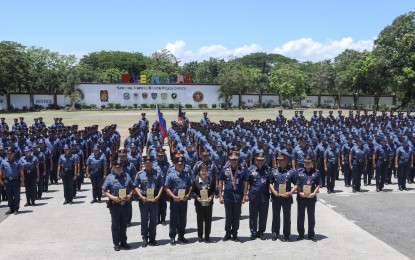 MANILA – Philippine National Police (PNP) chief Benjamin Acorda Jr. on Thursday welcomed the measure seeking to empower the PNP through organizational reforms, saying the proposal would equip the police force with the tools and structure needed to effectively address contemporary law enforcement challenges.
"I must emphasize that this proposal goes beyond making changes to our organization; it represents a profound commitment to making a positive impact on the communities we serve. We have persevered through various legislative attempts, undeterred by previous disapprovals of the PNP reorganization plan," Acorda said in a statement.
Acorda was referring to House Bill No. 8327 which seeks to restructure and strengthen the PNP to empower the institution to effectively address current challenges of law enforcement, such as kidnapping, human trafficking, terrorism, cyber-crimes, illegal drugs, and public safety concerns, including effective humanitarian assistance and disaster response.
The proposed measure, which was passed on second reading at the House on Tuesday, also takes into account emerging threats in the Philippines and the impact of globalization and technological advancements.
Acorda said the proposed amendments under HB 8327 hold significant national importance, providing an opportunity to fortify the PNP's capabilities and ensure the safety and security of the Filipino people.
"Let us remember that this proposed reorganization is not just a matter of policy; it is an investment in the future of our country," he said.
"By empowering the PNP to be more efficient and effective, we are fostering an environment where our people can live in peace, security, and prosperity. Together, let us build a nation where the rule of law prevails, where justice is served, and where the rights of every Filipino are protected," he added.
Meanwhile, Acorda thanked Congress and the National Police Commission (Napolcom) for their efforts in prioritizing the restructuring and strengthening of the PNP organization.
Acorda also expressed his sincere gratitude to retired PNP Chief Gen. Rodolfo Azurin Jr., who eagerly pursued this legislative agenda, as well as to Lt. Gen. Rhodel Sermonia, Maj. Gen. Robert Rodriguez, the director for Personnel and Records Management, and Maj. Gen Bernard Banac, the director for Plans, and other members and secretariat who worked together tirelessly from planning until submission of the proposal to the House of Representatives. (PNA)