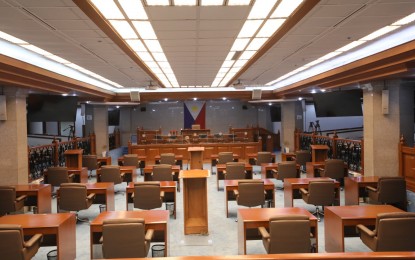 MANILA – Eight priority bills of President Ferdinand R. Marcos Jr. have been approved in the Senate during its first regular session under the 19th Congress.
"A highlight among our accomplishments is our approval of eight of the priority measures of the administration," Senate President Juan Miguel Zubiri said in a statement on Thursday.
Three of these measures are the SIM Registration Act, the Act Postponing the Barangay Elections, and the AFP Fixed Term Law, which have already been passed into law.
Meanwhile, the measures on the Condonation of Unpaid Amortization and Interests on Loans of Agrarian Reform Beneficiaries, the Regional Specialty Centers Act, the Extension of the Estate Tax Amnesty Act, and the Maharlika Investment Fund Act are currently awaiting the signature of the President.
The Senate approved the Maharlika Investment Fund bill early Wednesday this week after an 11-hour marathon session taken up by extensive line-by-line amendments.
Just recently, the Trabaho Para sa Bayan Act was approved by the Senate on third reading and is awaiting its counterpart measure in the House of Representatives.
Zubiri attributed the Senate's "success" to his fellow senators who are not only after the quantity but also the quality of the measures that have been approved by the Chamber.
"While this scoreboard shows the quantity of our output, it does not describe the quality of each of these measures. True to our tradition, we do not agree to proposals without discussion, nor embrace ideas without debate. We improve before we approve. We do not trade scrutiny for speed," he said. "All the senators across the majority and the minority have toiled very hard, from their committee hearings to the rigorous debates and interpellations in plenary."
"If the Senate has had an excellent performance thus far, it is all thanks to them," he added.
Under the current Congress, Zubiri said the Senate has so far produced six measures that have been enacted into law, four of which are of national application and two local laws.
He said a total of 22 bills are also for the President's signature, seven of which are national bills and 15 local laws.
Zubiri said Senate probes have been done for various issues of national concern, including price hikes and smuggling in the agriculture sector; malversation of public funds; the shutdown at the Ninoy Aquino International Airport (NAIA); and the Pamplona Massacre.
"When we conduct hearings on anomalies, we do not merely find faults, we find solutions as well. Our intention is not merely to look for crooks to be indicted, but to find what remedial laws must be initiated," he said.
The Senate has also produced committee reports on the investigations into the overpriced and outdated laptops procured by the Department of Education through the Department of Budget and Management - Procurement Service, the soaring market prices of onions, and the NAIA air traffic management system glitch.
Zubiri said the Senate would continue to work throughout the sine die adjournment until it reconvenes for the second regular session on July 24. (PNA)