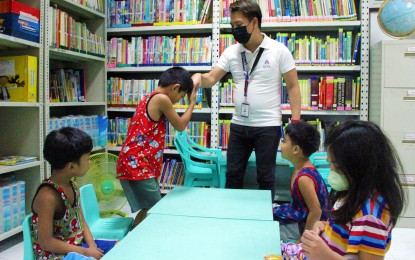 MANILA – Two lawmakers from the House of Representatives on Thursday pushed for the passage of a bill mandating all cities and municipalities to establish and maintain an early learning program that provides services to pre-kindergarten children, including those with special needs.
Representatives Paolo Duterte of Davao City (1st District) and Eric Yap of Benguet (Lone District), who filed House Bill (HB) 8069 or the Early Learning Program Act on May 11, said it is important to provide an early learning program among pre-kindergarten children and that it should be made available to all of them mandatorily by the government.
They said early childhood education is critical in the development and well-being of the country's children.
Under HB 8069, the two lawmakers wanted to make early learning programs widely available to pre-kindergarten children a high quality, child-centered and developmentally-appropriate, especially for children from poor families.
The bill also seeks to provide resources to ensure that all of them enter elementary school ready to learn how to read and write.
Duterte pointed out that the 1987 Constitution highlights the importance of education to children, mandating that elementary education shall be compulsory for all of them.
However, in addition to elementary education, early childhood education is also critical to the development and well-being of the nation's children, he added.
"According to the United Nations Children's Fund (UNICEF), early childhood education encompasses all forms of education, both formal and informal, of children from birth until eight years of age," Duterte said.
Duterte added that UNICEF also attests that early childhood education is the foundation of a child's journey, and that every stage of the child's future education relies on the early childhood education's success because failure to provide the said right to education limits children's futures by denying them opportunities to reach their full potential.
For his part, Yap said that despite the education's advantages, children from poor families are the least likely to attend early childhood education programs.
"UNICEF reports that more than 175 million children – nearly half of all pre-primary-age globally – are not enrolled in early childhood education, most especially those from low income countries like the Philippines," Yap added.
He said the early learning program is designed to service pre-kindergarten children, including those with special needs, who shall receive enhanced educational and comprehensive services and support, through parent involvement and education.
"It is in this regard that this bill mandates all cities and municipalities to establish and maintain an early learning program that provides learning services to pre-kindergarten children, including those with special needs," Yap said. (PNA)