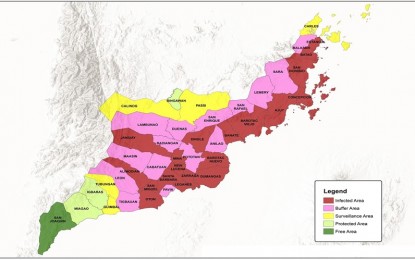 ILOILO CITY – The provincial government here is looking forward to embarking on a "sentinel" program that will pave the way for swine repopulation, said Iloilo Governor Arthur Defensor Jr. on Thursday.
At a press conference, Defensor laid down the provincial government's plan to recover from the declining hog inventory in the province due to the effects of African swine fever (ASF).
The Office of the Provincial Veterinarian reported that swine inventory in Iloilo dropped by 63 percent as of May 29, or 176,220 heads compared to the 277,421 heads recorded in September 2022, or a month after the first case of ASF was reported in the municipality of Oton.
"We will repopulate in the areas where we are strong. We will repopulate in areas where we can," Defensor said, adding that the province used to be hog sufficient.
The provincial government, Defensor said, would embark first into the "sentinel" program before doing the repopulation.
"We can start at the barangay level. We arranged a meeting with the DA (Department of Agriculture) just this morning for our repopulation program," he said.
The program begins when DA initially provides a "sentinel" piglet to a target barangay and an additional two after 40 days.
Provincial veterinarian, Dr. Darel Tabuada, clarified though that every barangay can have its "sentinel" pigs provided it has had no ASF cases in the last two months.
He said that as of May 29, nine of the 25 municipalities affected by the ASF have had no new cases for the past two months.
Except for the municipalities of Batad and Maasin which recorded new cases this month, the rest of the affected towns have had no new cases for over a month.
The spread of the animal disease has slowed down due to the reduction of the swine population, thus lessening possible hosts, and farmers have already adopted and practiced biosecurity measures, he said.
As the province is poised to embark on the repopulation program, Tabuada said they would work on strengthening the Tapak (Step), Hugas (Wash), and kag Malimpyo nga Pagpakaon (clean feeding) or "TAHUM" campaign that was contained in Executive Order Number 605 establishing minimum biosecurity standards to fight the ASF signed by Defensor in December last year.
"We will strengthen at the backyard level for those with remaining swine and for those who would like to resume raising hogs," Defensor said, adding that there will be massive advocacy at the barangay level for them to change their practices in swine raising. (PNA)