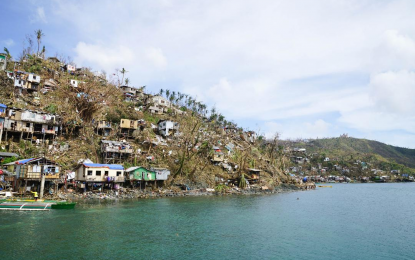 MANILA – Lone District of Dinagat Island Representative Alan 1 Ecleo has underscored the need to amend the seemingly old laws and rules on disaster risk reduction and management (DRRM).
During the House Subcommittee on Disaster Prevention and Mitigation hearing on Wednesday, Ecleo reiterated his call to "reform and update" laws and rules on risk reduction and management in the country.
Ecleo, chair of the House Committee on Disaster Resilience, also pushed for streamlining of the management of DRRM funds.
He cited the experiences of Dinagat Islands since the province was devastated by Typhoon Odette two years ago.
He previously filed House Bill (HB) No. 08077 and House Resolution (HR) 00969.
HB08077 seeks to amend Sections 22, 26, 27 of Republic Act No. 10121, otherwise known as the Philippine DRRM Act.
It aims to extend the period in which affected provinces can request aid from the National DRRM fund and requires the Committee on Disaster Resilience to be part of the Congressional Oversight Committee which monitors the implementation of the Provincial DRRM Law.
"Several of the law's processes on rehabilitation (including terms and periods), as well as the corresponding implementing rules and regulations, are now proving to be insufficient or at least inefficient for calamity-stricken communities and constituents," Ecleo said in his explanatory note for HB08077.
Ecleo said the PDRRM Act was enacted more than 13 years ago when the country has yet to suffer from severe devastations caused by Typhoon Pablo in 2012, Bohol earthquake in 2013, Super Typhoon Yolanda 2013, Marawi siege in 2017, and Typhoon Odette in 2021.
"Clearly, the law requires an update for the same to be more responsive to the needs of the people and to be relevant to current challenges of climate change," he said.
On the other hand, HR 00969 urges the Office of Civil Defense (OCD) of the Department 0f National Defense to streamline its processes in providing aid from the NDRRM fund so as not to "frustrate calamity-stricken communities with procedures and requirements that restrict instead of facilitate."
Both measures have already passed the subcommittee level, with HB08077 to be consolidated with similar and related bills passed by other representatives. (PNA)