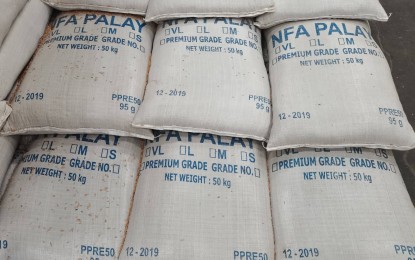 DUMAGUETE CITY – Farmers in Negros Oriental who will sell their palay (unhusked rice) to the National Food Authority (NFA) have been assured of fair or higher prices.
NFA-Negros Oriental chief Benilda Fidel told the Philippine News Agency on Thursday that at least five local government units have signified their interest in the Palay Marketing Assistance Program for Legislators and Local Government Units or PALLGU.
"Some LGUs have already downloaded the money for the additional premium to top up our buying price of PHP19 a kilo of clean and dry palay," Fidel said.
"This is one way of the government to help local farmers, who usually sell to private, commercial establishments who buy their palay at between PHP 20 to PHP 22 a kilo at the average," she added.
The five LGUs that are participating in the PALLGU are Bayawan City, Guihulngan City, Bais City, Mabinay and Tanjay City.
Bayawan City, in a memorandum of agreement with the NFA, signed here last November, committed a PHP3 per kilo premium.
It already downloaded PHP600,000 to the NFA, equivalent to 4,000 bags of palay, with the master list of beneficiaries also submitted to the agency.
Guihulngan City has also committed PHP3 per kilo top-up and downloaded PHP 200,000 to NFA following an agreement signed last December.
In January, Bais City also signed a memorandum with NFA and committed a PHP6 per kilo premium, or equivalent to 400 bags of palay. It has yet to download PHP120,000 to the NFA here.
The Mabinay LGU, meanwhile, has committed a PHP2 per kilo top-up, equivalent to 5,000 bags of palay. The agency is still awaiting the downloading of PHP500,000 for this.
Tanjay City committed to a PHP5 per kilo premium although the LGU and NFA still have to ink a MOA, but the PHP500,000 for 2,000 bags is ready for downloading after the agreement is signed.
Fidel said they are continuing with their campaign in urging LGUs to start participating in the PALLGU so that the 31,784 registered rice farmers in Negros Oriental will benefit from this. (PNA)