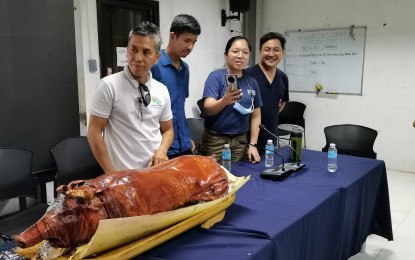 DUMAGUETE CITY – The Bureau of Animal Industry (BAI) has sent veterinary doctors and technical staff to Negros Oriental to immediately contain the spread of African swine fever (ASF) to other towns and cities, an official said on Thursday.
Dr. Alfonso Tundag, quarantine officer of BAI-Negros Oriental, told the Philippine News Agency (PNA) in an interview that four livestock inspectors from their central office arrived here Tuesday to aid the team of veterinarians recently deployed to the province.
Last week, three veterinary doctors also came to the province to assist in surveillance and biosecurity measures to ensure that the ASF virus would not jump to swine populations outside of Dauin and Sibulan towns.
"Their presence here is a big help to us in combating the ASF, considering the limited expertise, knowledge, and manpower here," Tundag said.
The Department of Agriculture 7 (Central Visayas) also sent personnel to Negros Oriental last week as combined efforts continue in the culling of pigs affected by the ASF in some barangays in Dauin and Sibulan, as well as surveillance and other measures.
Provincial Veterinary Office chief Belinda Villahermosa said in a press conference late Wednesday afternoon that containment measures must be working as no additional pig deaths were recorded in Sibilan town in the past two days.
Only 18 hogs were culled in Sibulan.
In Barangay Maayong Tubig Dauin, 427 hog deaths were already reported as of May 31, Villahermosa said.
Of the total, 283 of these were culled while 144 died of ASF, she added.
Three more "puroks" or clusters in that village have been added to the list of affected areas after some pigs tested positive for ASF.
In Sibulan, authorities have tagged Barangay Tubtubon as "ground zero" for the ASF, although two nearby barangays were also earlier included in the list of areas with pig deaths associated with the virus.
"It is easier to contain the spread in Sibulan because we have seen that there are fewer backyard hog raisers and are not closely situated unlike in Dauin," she said partly in Cebuano.
Tundag said it is difficult to put in place biosecurity measures in Dauin because the houses where pigs are being raised are close to each other, "thus there is a bigger chance to transfer the virus unintentionally."
He lamented the lack of support from the community or barangays, noting that some pigs managed to leave the areas where containment measures are in place despite seven checkpoints being established.
Meanwhile, Board Member Woodrow Maquiling, Committee on Agriculture chair of the Sangguniang Panlalawigan, led provincial government officials, BAI veterinarians, government staff, and media members in partaking of lechon after the press conference at the Provincial Disaster Risk Reduction and Management Office here.
This is to show the public that it is still safe to eat pork and other by-products in the province despite the presence of ASF, provided that the pigs go through the usual protocols, safety inspection, and certification by proper offices, he said. (PNA)