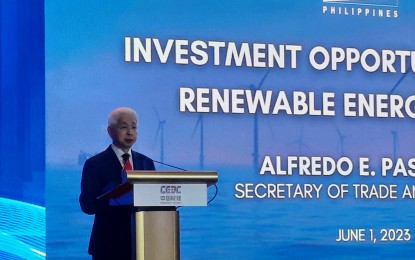 MANILA – Department of Trade and Industry (DTI) Secretary Alfredo Pascual expects offshore wind energy projects to drive foreign direct investments (FDIs) in the country in the coming years.
On the sidelines of the Energy China Offshore Wind Forum 2023 in Taguig City Thursday, Pascual said as the government liberalizes investments in renewable energy by allowing 100 percent ownership for these projects, many foreign investors have expressed their interest to put up offshore wind projects in the country.
In his speech during the forum, Pascual said the Board of Investments (BOI) has already approved PHP390 billion worth of offshore wind energy projects in the first quarter of the year.
These investments came from three offshore wind projects with a total capacity of 1,300 megawatts.
Energy Undersecretary Rowena Cristina Guevara said in the same forum that as of the end of May, the government awarded 65 offshore wind energy service contracts with a potential capacity of 51.23 gigawatts.
To facilitate and fast-track these projects, Guevara said the Department of Energy (DOE) would issue the policy and administrative framework for the accelerated offshore wind development on June 18.
Meanwhile, several players in the energy sector in China are in the Philippines to look into opportunities in offshore wind energy.
With all the reforms of the Marcos administration to attract FDIs, Pascual urged Chinese firms to invest in the country.
"We need over 52,800 MW of additional renewable energy capacity to reach our renewable energy target by 2040. In Beijing early this year, our President Ferdinand Marcos Jr. highlighted the immense opportunities for investment in our renewable energy sector. We, therefore, welcome Chinese and other foreign investment in renewable energy projects in the Philippines," he said. (PNA)