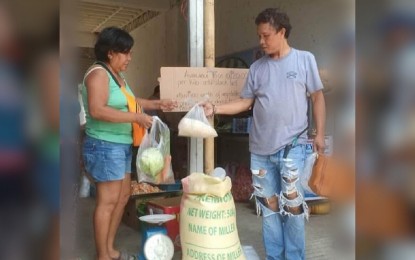 SAN JOSE DE BUENAVISTA, Antique – Three more Kadiwa stores will open in Antique this month to expand to 23 the available outlets in this province.
"The Department of Agriculture upon the instruction of President Ferdinand R. Marcos Jr. is establishing more Kadiwa stores in partnership with the cooperatives to ensure that rice and other agricultural crops could be bought by the consumers especially the indigents at lower prices," said Engineer Israel de Guzman, general manager of the Jubilee Agila Bayanihan Agriculture Cooperative, in an interview on Thursday.
The cooperative that supervises the operations of the program in Antique opened four outlets in the municipality of Sibalom, the biggest town of the province, bringing to 20 the total operating stores in the province this week.
The three stores will be opened in the municipalities of Hamtic, Anini-y and Tobias Fornier.
"The local government unit of Hamtic has offered a space for the Kadiwa retail store inside their town public market," he added.
The new outlet will be bigger when compared with their existing store in Barangay Bia-an.
De Guzman said one of their best-selling commodities is rice that they sell at PHP20 a kilo, citing feedback from their store operators.
"The Kadiwa stores especially had been helpful to the indigents who need to buy rice for PHP20 per kilo during this time when we are experiencing heavy rainfall," De Guzman said.
The demand is high during rainy days because consumers need to stock their supply amid the inclement weather that limits their movement.
One outlet can dispose of two sacks of rice in a day.
He added that with donations from some overseas Filipino workers (OFWs), they were able to keep the price at PHP20 a kilo, which is lower than those being sold in commercial stores.
The donated amount served as a counterpart payment, he said.
The OFWs are die-hard supporters of President Marcos and are keen on seeing that the Kadiwa realizes its objective of selling affordable, fresh, and quality agricultural products to consumers, particularly the indigents. (PNA)