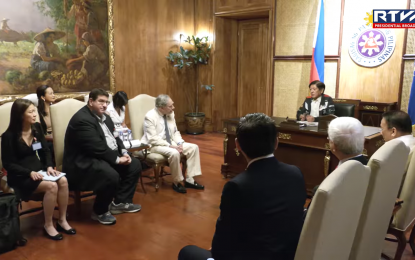 MANILA – The Philippines will be hosting the Forbes Asia Forum and the Forbes Global CEO Conference in 2024, Malacañang announced on Friday.
This developed after President Ferdinand R. Marcos Jr. met with the senior executives of Forbes Media LCC at Malacañan Palace in Manila on Thursday and agreed to their proposal to hold the forum and the global conference in the fourth quarter of 2024 in the country, Presidential Communications Office (PCO) Secretary Cheloy Garafil said.
"President Ferdinand R. Marcos Jr. has agreed to the Philippines' hosting of the Forbes Asia Forum and the Forbes Global CEO Conference in 2024, as it is expected to result in wider exposure for the country in line with the administration's effort to attract more foreign investors," Garafil said.
Marcos expressed optimism about the Philippines' hosting next year, noting that his administration has been focusing on propping up the economy and enticing more investments in various areas such as digitalization, energy, connectivity, bureaucratic reforms and infrastructure development.
"I hope that we can feature that in this conference and we can show the Philippines as it is now, as opposed to perhaps some of the ideas that people have had almost for a while," Marcos, as quoted by the PCO, told Forbes' top executives.
"I have the Filipino workforce that, for me, is still going to be, it has been a blessing. You know we have the youngest workforce in the region… They're very well-trained English speaking (workers)," he added.
Marcos also stressed that the government has embarked on a "charm offensive" because the Philippines has to compete with some of the region's fastest growing and most energetic economies such as Indonesia, Vietnam, China and Japan.
The annual Forbes Global CEO Conference convenes the world's top CEOs, tycoons, entrepreneurs, investors and leaders to discuss key issues of international concern and build new partnerships, highlighting a fireside chat between a senior Forbes editor and a host country's leader.
This year's global conference will be held in Singapore from September 11 to 12.
Garafil said the Forbes Media LCC executives had invited Marcos to take part in a fireside chat during this year's conference.
The Forbes Asia Forum, on the other hand, features Forbes Asia's Best Under a Billion and Forbes Asia's 100 to Watch.
Singapore will also host the event in the fourth quarter of this year.
Among Forbes Media LCC top executives who paid a courtesy visit to Marcos were Forbes Vice Chairperson Christopher Forbes, Chief Executive Officer William Adamopoulos, Forbes Media Asia Pte. Ltd. Senior Vice President Tina Wee, Regional Director Michelle Ong, and MMPR Media Group, Inc. Country Representative Marie Moñozca.
Forbes Media LLC is a global media, branding and technology firm focusing on news and information about business, investing, technology, entrepreneurship, leadership and affluent lifestyle, as well as specialties on finance, politics, small business, cloud computing, security and management.
It reaches over 94 million people worldwide with its business message each month through its magazines Forbes, Forbes Asia and Forbes Europe, 37 licensed local editions around the globe, Forbes.com, TV, conferences, research and social and mobile platforms.
The company is headquartered in New Jersey City, New Jersey in the United States. (PNA)