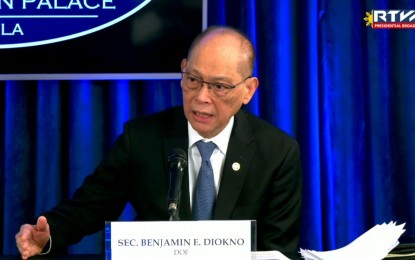 MANILA – Finance Secretary and People's Survival Fund (PSF) board chairperson Benjamin Diokno signed Thursday the financing agreements for the PSF Project Development Grant (PDG) with local chief executives, granting up to PHP2 million each to five Northern Samar local government units (LGUs).
In a statement late Thursday, DOF said the grants under PSF would support activities needed for the identification and development of climate change adaptation projects, which will be implemented for two years.
The PDGs were awarded to the municipalities of Bobon, Mondragon, Pambujan, Rosario and San Jose.
Bobon Mayor Reny Celespara, Rosario Mayor David Bido and San Jose Mayor Damian Luzon Jr. accepted the grants on behalf of their municipalities.
The grants are intended to help LGUs enhance their PSF proposals by providing additional funding during the project initiation stage.
"The DOF recognizes the critical role LGUs play in ensuring that climate projects are successful. It is therefore necessary that we strengthen LGUs' capacities to produce and carry out local climate change adaptation projects that would effectively boost their resilience," Diokno said.
"The PDG is an ideal tool to transform their vision into comprehensive and feasible proposals that have tangible and lasting effects on our local communities," he added.
The PDG was made possible through the efforts of the Climate Change Commission, PSF Board Member agencies and the DOF.
The DOF committed to further roll out new projects and facilitate LGUs' access to grants under the PSF.
The PSF was created by virtue of Republic Act 10174 as an annual fund for LGUs and accredited local/community organizations to implement projects that would help vulnerable communities deal with climate change impacts. (PNA)